Gunmen target overseas-based Guyanese home for mother's funeral
A 62-year-old overseas-based Guyanese was recently relieved of approximately $1 million in cash and jewelry, when two armed masked men confronted him in Goed Bananen Land , Berbice.



Abdul Amin Ghanie, known as 'Baker', a resident of Canada , came to Guyana last Thursday for his mother's funeral.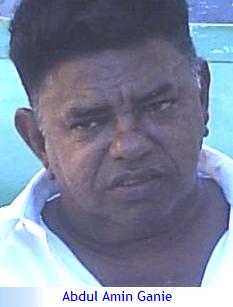 Reports reaching Kaieteur News stated that at about 06:45 pm Saturday evening Gannie and his friends, Brijmohan Sarwan, known as Magic, Veena Ramrattan and Jerry Bacchus, were relaxing in the bottom flat of Ghanie's home at 17 Goed Bananen Land, Canje, Berbice, when they were attacked. According to reports, the two masked men suddenly appeared and, before anyone could react, one of the men placed a gun to the head of Ghanie and Sarwan and requested that no one moved.
They relieved Ghanie of his gold jewellery and stripped him of his clothing, leaving him naked.
In his pants pocket he reportedly had C'dn$3,000, US$2,000 and $5,000 in local currency. The gunmen pistol-whipped Sarwan to the head, before fleeing through the backyard and escaping via the road aback of Ghanie's neighbours.
An alarm was raised and the police were summoned. To date, no one has been arrested.
Wednesday 05-25-2005