Troy Dick, accomplice killed after $8M heist
-AK-47 assault rifle, revolver recovered
By Michael Jordan
Notorious escapee Troy Dick and a 34-year-old accomplice were shot dead at around 09:30hrs yesterday, just a few minutes after carrying out a brazen $8M heist in Regent Street .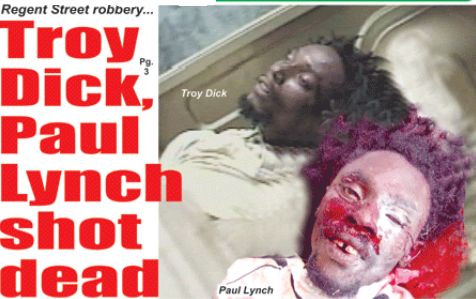 Police said that Dick, the last of the surviving escapees from the February 2002 jailbreak, was killed in Norton Street while attempting to hijack a car.
His accomplice, Colin Jacobs, also called Paul Lynch, of Globe Yard, Waterloo Street ,
was cornered and killed in a yard in Hardina Street .

AK-47 rifle
At the time of his demise Dick was armed with an AK-47 rifle, with the butt sawn off, along with four magazines and a quantity of matching live rounds.
Lynch was said to be armed with an unlicensed .38 snub nose revolver.
Police said that Kwame Patterson, 33, of Prospect, East Bank Demerara, who was in a motor car, was shot in the right knee during the exchange of gunfire between the bandits and police.
He was treated at the Georgetown Hospital .
However, a third bandit who fled with Dick and Lynch to Hardina Street managed to escape.
Kaieteur News understands that police ranks have recovered a shoe-box containing $1M, which was part of the money that the gang had snatched from 33-year-old moneychanger Ashraf Alli near the Discount Store in Regent Street.
The drama began at around 09:30hrs, when Alli came out of the Discount Store with around $7M in a haversack and another $1M in a shoe-box.
As Alli was about to enter his car, he was confronted by two men who pointed a handgun at him and ordered him to hand over the cash.
Alli, who had a licensed firearm, refused to hand over his money and a struggle ensued between the moneychanger and the bandits for the haversack.
The bandit with the gun responded by firing shots in the air and the two robbers eventually overpowered Alli and fled south into Wellington Street with the loot, shooting as they ran.
Police said that the men then joined a car, in which Dick and Jacobs were reportedly waiting.
Kaieteur News understands that an off-duty policeman who had witnessed the robbery contacted his colleagues, who immediately set off in pursuit of the robbers.
The bandits, with the police hot on their heels, headed for Hardina Street , where they abandoned their car, apparently to throw the police off their trail.
That proved to be their undoing.
Kaieteur News understands that Jacobs and another bandit then attempted to hijack a car.
Andy Watson, a resident of the area, said that he was cleaning a relative's car in Hardina Street when he saw "two Rasta men and a red man" running towards him.
"They come running breathless and I thought that was taxi they want," he said.
"When they reach me they ask: 'Who driving this taxi?'
"I say that the driver upstairs. They point guns at me and say drive or we gun shoot," a shaken Watson recalled.
"I say that I can't drive and beg them not to shoot me."
Fortunately for Watson, the police arrived on the scene shortly after.
Eyewitnesses said that on seeing the police, Jacobs fled into a yard in Hardina Street , where he was pursued and shot.
Jacobs reportedly spoke to the ranks before he died.
Meanwhile, Troy Dick, who was armed with an AK 47 rifle, fled into Norton Street .
A female resident said that she was in her yard when she saw a man with dreadlocks and an AK 47 rifle running in a nearby yard.
She said that the bandit then entered a car that was parked in Norton Street . It was then that gunshots rang out and the bandit, identified as Troy Dick, slumped in the seat, with a bullet wound to the head.
Police ranks then placed the two dead bandits in a vehicle and took the bodies to the Georgetown Hospital .
Police later confirmed that one of the slain gunmen was indeed Troy Dick.
At around 17:00hrs yesterday, police returned to Norton Street where they surrounded and searched a house after receiving information that one of the gunmen who had escaped was hiding there.
However, the gunman was not found.
Troy Dick, along with Dale Moore, Shawn Brown, Andrew Douglas and Mark Fraser, escaped from the Georgetown Prisons on February 23, 2002, after killing prison officer Troy Williams and severely wounding his colleague, Roxanne Winfield.
Their escape triggered an unprecedented crime wave in which several policemen and civilians were slain.
At the time of his death, Dick was wanted by the police for a number of criminal matters including the murder of Minister of Agriculture Satyadeow Sawh, his brother Rajpat Rai, sister Phulmattie Persaud, and a security guard.
Collin Jacobs was charged along with six other men in connection with robberies at two Regent Street stores on April 13 last.
He never attended court to answer the charges.
Saturday 09-30-2006