Three gunmen rob Bel Air shop
In a daring after lunch robbery yesterday, three gunmen beat a home-alone businesswoman in her grocery and hardware shop in Bel Air and made of with cash, jewellery, documents and a licensed firearm.



According to businesswoman, Bheswari Persaud, of 62 Bel Air, Georgetown, she had just finished purchasing cooking gas for the shop when three men entered the premises located in the bottom flat of her home.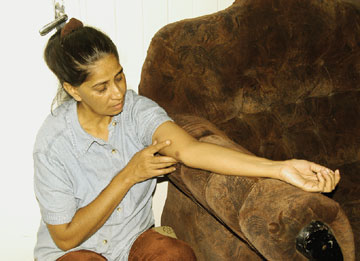 Persaud displays a wound on her hand after the robbery yesterday.

They bought a beverage and two bottles of orange juice and paid her for it.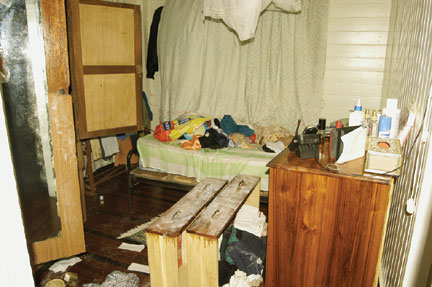 A ransacked bedroom in the house

She became apprehensive when they lingered, and then they pulled guns and beat her and tied her with a skipping rope and wire , taking cash from the dayís sales from the drawers.
Then they took her upstairs where they ransacked the rooms and stole her jewellery.


The ordeal lasted about 20 minutes.


The robbers took away $3,000 and US$1,000 in cash, the firearm and matching ammunition, a quantity of jewellery, and a number of cell phone cards

Residents in the area said they saw three men walking down the street with guns and a bag.

They called the police for they suspected that the men had robbed someone. The Police responded a few minutes later, but by then the men had disappeared.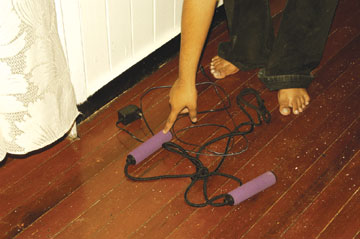 The skipping rope and wire which the bandits used to tie up Persaud when they took her upstairs

When the Chronicle visited Persaudís home yesterday, several neighbours were there comforting the woman
day, April 20, 2006