Spate of burglaries at Canal Number Two

RESIDENTS of Canal Number Two Polder, West Bank Demerara last week expressed concern over recent burglaries in their village.
They said at least 10 houses were broken into while the occupants were asleep and, in most instances, the burglars helped themselves to food and drinks and defecated on the premises.
Some of the victims told the Chronicle, during a visit there, that Police responded to their calls after they awakened to discover that their homes had been burglarised but they want ranks to maintain their presence in the community.

Armed bandits rob West Coast Berbice store

The complainants believe the bandits, whom they have dubbed the 'faeces gang', belong to the area and are drug addicts.
One victim, Ramsamooj, 57, of Lot 38 New Annleget, said that, on Tuesday last, he was summoned to his parents' house which had been the scene of a burglary and found that entry was gained by removing a few louvre panes from a window and climbing onto a zinc shed from some steps.
The building, which is unoccupied by persons, had contained mechanical tools and other equipment used for farming but all were removed from the lower flat and abandoned in the backyard, after the thieves were seen by neighbours who raised an alarm.
After fleeing that scene empty handed, the burglars went to the neighbours some hours later, broke in and stole money that was on a kitchen table before moving next door to where Pradhuday Ori, 53, of Lot 37 New Annleget, lives and houses Upfront Chinese Restaurant.
They got into the eating place but were, again, unable to take anything because their presence was observed.
However, they discarded a pair of three-quarters pants, a hat, torchlight and a knife which was taken from a shed at the back of the yard where they also deposited faeces.
Another victim, greens vendor Anita Nandkishore, 42, of Lot 4 Reserve, related that, two Fridays ago, she awoke, as is customary, at 03:30 h and saw some articles belonging to her children on the kitchen floor.
She did not suspect anything until she saw that louvre panes were missing and later realised that she lost an expensive cellular phone, a wrist watch, a DVD
recording and $30,000 from a wardrobe in the lower flat of her home.

FINGERPRINTS
The booty had been taken while Nandkishore and her five children were asleep but, subsequently, Police arrived and dusted the place for fingerprints.
The bandits also targeted S. Loaknauth Liquor Restaurant, owned by Ganesh Singh, 37, of West Half Middlesex. There, they removed louvre panes from a window and took six bottles of vodka, other beverages and cigarettes.
The gang also drank some of the alcohol and left the empty bottles, cigarette butts and excrement covered with a shirt.
Singh said they did not get into his residence because of the heavy grill work but were able to steal from the liquor shop by putting their hands through the breached window while himself and two other occupants, including a child, slept.
He later noted that his bicycle had been taken away.
Two weeks ago, thieves broke into the home of Dharamdat Surujpaul and stole $200,000 in local and foreign currencies after ransacking the place.
They secured access by opening an unsecured window on the lower flat of the two-storey building and searched through wardrobes and the entire house while
the six occupants slept.

Again they left faeces after discarding, in the backyard, the empty purses from which all his children's savings were taken.
Police 'D' Division Commander, Assistant Commissioner Gavin Primo, commenting on the spate of burglaries, said they are being investigated and vigilant patrols are continuing where they occurred.
He exhorted villagers to remain calm and exercise caution by securing their houses and reporting all intrusions.
Primo announced that he plans to visit the troubled community shortly.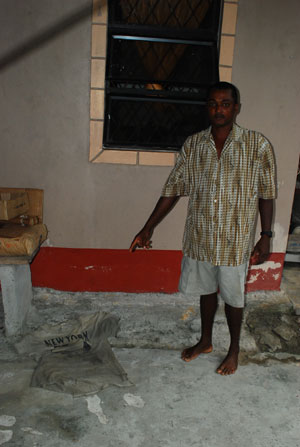 Ganesh Singh at the spot where the bandits defecated after robbing his shop