Reputed husband butchers mother of two
(By Mondale Smith and Jenelle Carter)
The lives of two baby girls, aged two years and four months have forever been altered. Their mother is dead with multiple stabs and chop wounds about her body, allegedly inflicted by their father who has gone into hiding.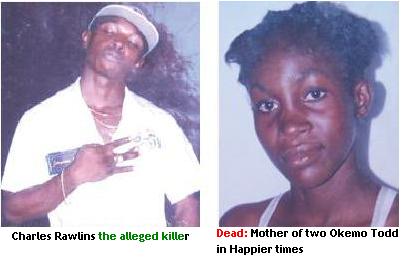 Yesterday, the deafening screams of "Help! Murder, Help" by a woman at 15 Ketley Street, Charlestown, about 1:30 hrs disturbed the night's silence of many in the environs. Seconds later, Okemo Akeme Todd, 21, plunged through the window of the building in which she lived, blood spurting from her body. Her attacker, said to be Charles Rawlins, was allegedly in hot pursuit.
Clad only in her brassiere and a half slip, her desperate escape took her over a heavily padlocked zinc fence that she would normally have had difficulty scaling.
She then ran across the street and climbed over the Ketley Primary School gate that stands more than seven feet high to seek refuge in the School's guard hut.
So severe were her injuries that her only words as blood spewed from her body were "Guardie…please help me, help."
Her voice soon faded as she crumpled to her knees. Eventually she was flat on the concrete. The guard ran to her assistance and as he tried to keep her conscious he saw what he termed death in its agonising and horrifying form staring in his eyes.
He was helpless and in disbelief that the woman who often hailed out to him now lay dying with blood flowing from her mouth.
Hours after the horrifying ordeal the still aghast guard stared at the blood-stained gateway that leads to his hut as he recalled the story.
He said that in a minute that seemed like a horrifying eternity he saw a GDF soldier who was passing, rush to the woman's aid and assisted in transporting her to the hospital. There he got the news that she was dead. The soldier has not been able to eat any food since.
Her body bore more than twenty stabs and cuts. Several of them were at her back. At the hospital, her four-month-old had blood spattered on the face while the two-year-old reported that "daddy beat mommy".
From all reports, both were present and witnessed the attack that has left them void of a mother to embrace and care.
Police recovered a bicycle and a pair of footwear in a yard next door. These are believed to be the killer's. It is believed, too, that the killer entered and exited by prying open a zinc fence aback of the yard and gaining access to the shack.
When this publication visited the scene, Cicely, the mother of the alleged killer who shared the shack with Todd was at her wits end as she stood amidst scattered clothing in the hut, next to a bloodstained bed.
The woman cried and shook her head in disbelief. "I don't know what could have caused this. Why he do this to she, why, why," she said. As far as she was aware her son left her home on Thursday. She said that he had called her from Suriname en-route to Cayenne. "Me daughter-in law had me phone so he used to call she and we talk up to Saturday but we ain't know he was here in Guyana," the woman said.
Reports are that the man had returned and was monitoring Todd's movements for a few days.
Some say that the man who was extremely jealous and possessive of Todd was seen in the area and may have been ticked off by the children being allegedly left alone in the shack while she went out and returned at about 1:00 hr yesterday.
Some reported hearing heated arguments before the woman screamed for help but his mother could not confirm or deny any of these reports.
Holding up part of a Mashramani costume, she recalled that her daughter-in-law was among the mash revellers and said they had gone shopping at about 11:45 hrs on Sunday and all was well.
"I send she home with the stuff and I did not come home till today (about 5: 30) and was greeted by this," the woman said.
Partly hanging outside the window of the hut was a pink blood stained mosquito net while across the road evidence of dried blood was seen atop the School's gate and droplets in the guard hut.
The guard said that he did see her come in crying for help. "I ask she what happen and she collapsed. She tried to say something to me but all that came out she mouth was blood…blood was everywhere.
Okema Todd and her assailant had shared a tumultuous relationship that saw the woman leaving the shack on many occasions to seek shelter at her mother's home in East La Penitence.
Neighbours recalled rescuing the abused woman on many occasions from the blows of her reputed husband.
"He de break up she fingers before and bung up she face but the two of them always end-up back together," one neighbour said. She was supported by others.
The man, a former boxer who served prison time for killing another man in the Stabroek market area about 12 years ago according to law enforcement authorities, was known for a violent temper.
Some in the boxing fraternity said that he was a good boxer with much promise but because of his temper he was let go.
The dead woman's older sister said that because of the abuse the victim was back at her mother's in East La Penitence home up until the day before Valentine's Day when she went back to her child father's shack with encouragement from her mother-in-law.
Neighbours reported that they saw him dressed in a pair of blue jeans and wearing a haversack observing the scene from a distance. They said that they watched him walk away after the woman was removed from the scene.
The woman's sister said that the two often fought and that her sister had relayed that "he always used to say he gon murder she and he finally did. We hearing that he gone to Suriname but we advising he to come back and tell we the reason why he did it," she said.
Tuesday, March 02, 2010