Cadet Officer paid with his life

THE call to balance the Disciplined Forces has been going on for some time.
Many wondered why more Indo-Guyanese do not join those bodies.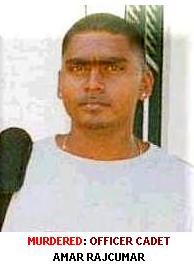 Well, the death of Amar Rajcumar, a Cadet Officer of the GDF, can explain why.

Indo-Guyanese are subjected to great harassment in the Army and Police Force from the time they join these organisations. The whole system is geared to keep them out, despite reports and recommendations from several commissions.

The first attack on them is the use of food. Hindus and Muslims, due to cultural reasons, have some dietary specifics. These are often not respected by the Forces and this discourages them from applying.

If they survive this, by adapting, the training is doubly hard on them. This includes beating and insults.

Those who survive this and begin to function in the Army or Police Force, then find that they rarely get promoted.

While their Afro-counterparts may become Captains or Inspectors, they are often left at the level of Corporal or probably they may make it to Sergeant.

Those few who manage to go to any higher position than Sergeants, find that they are often attacked, criticised, and ways and means are found to push them out of the organisation.

The GDF from its inception is noted for this; recall the pushing out of Sattaur, who was a highly trained officer and later officers such as Asad Ishoof were forced out.

Presently, in the Police Force, Steve Merai, an ace crime fighter and a few others are being frustrated with the objective of forcing them to resign.

Many of them may consider themselves lucky that they are alive.

Amar Rajcumar paid with his life for trying to defy the odds and become a soldier.

Maybe the Ethnic Relations Commission should look into this.
GANGA SINGH


The guilty must be punished
IT IS an established fact that East Indians are very sceptical to join the security forces in Guyana, and justifiably so.

The recent death of Cadet Officer Amar Rajcumar has underscored this reality.

On Tuesday April 11, 2006 Cadet Officer Amar Rajcumar was pronounced dead on arrival at the Georgetown Public Hospital Corporation at around 14:45 h.

An autopsy revealed that Rajcumar died from haemorrhage caused by blunt cranial trauma. In other words, the Cadet Officer died from internal bleeding in the head caused by a blow he received from a blunt object.

A Guyana Defence Force release stated that the Cadet Officer was involved in a physical training session at Camp Stephenson when he collapsed.

First of all, in order for a blow in the head to cause the effect as revealed by the post mortem examination, that blow had to be an extremely forceful one, and if one wants to accept that a touch to the head every now and again during training may be necessary, it will be hard to accept that that was what occurred on this occasion.

This appears to be a clear case of brutality resulting in the young manís demise.

While I will never subscribe to such a cruel act being committed against anyone, my question is why did this happen to one of the two East Indians who were on training?

The main reason given for a very long time now, why East Indians do not join the Army nor the Guyana Police Force, particularly the former, is that because of the predominance of Afro-Guyanese in these organisations, they are afraid of victimization and acts like the one committed on Cadet Officer Rajcumar.

Few Indo-Guyanese like Rajcumar had or are having the courage to venture into the security forces in Guyana, and when those few are met with such fate as did Rajcumar, it does not serve as an encouragement for others to do likewise. In fact it serves as an even greater deterrent.

Perhaps it is a deliberate ploy to keep the security forces with a certain ethnic composition.

No one should be annoyed when an Indo-Guyanese mother, father, husband or wife thinks that acts like that committed on Rajcumar are deliberate, because it is a reality that we have inherited from our colonial past and an actuality that we have to live with.

The cries of Rajcumarís mother are loud and clear. She is one of the persons who I am certain would like to see unity and harmony in this country.

This is testimony in the encouragement and approval she gave to her son to join the Army but reality has superseded the chances she and her son took, thereby shattering their hopes.

I am certain that the few East Indians who are in the national security forces can testify to the level of (and in some cases open) racial prejudices that they are subject to.

The nature of the act that resulted in the young cadetís death must be interpreted as either deliberate or extremely irresponsible and those guilty of the injustice committed against him must swiftly be dealt with by the full gamut of the law.
SASENARINE

Saturday, April 22, 2006