Canadian shot dead
- as bandits invade Cool Square Bar

Canada-based_Berbice United States-based US-based shot dead Canadian-captain-shot Canada-based
Cuban-and-woman-dead Phagwah-Pet-boy-KN Alecia Foster Hotel-manager-murdered Maria-survives-execution Greek-businessman-dead Overseas based Guyanese family robbed 11-dead


Two gunmen walked into the popular Cool Square Nightspot in West Ruimveldt robbed the patrons, fired a gunshot and when they left, a Canadian-based Guyanese lay motionless on the floor, bleeding profusely from a bullet wound.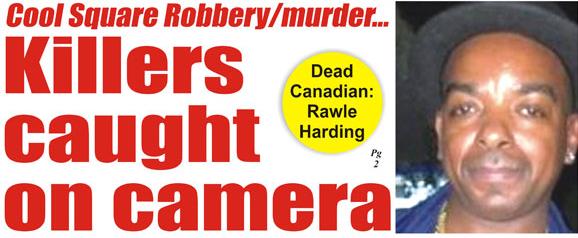 Rawle Harding, who is said to be in his mid forties, was shot in the chest and was pronounced dead at the Georgetown Hospital just after 11 o'clock last night.
According to initial reports Harding, who was stopping at a Lamaha Street address, was sitting in the bar with associates when the two men walked in brandishing their guns.
They proceeded to rob the patrons including Harding.
It is not clear why Harding was shot as up to press time the details were still sketchy.
But according to a source, after the bandits left, Harding was picked up and rushed to the hospital but by then it was already too late.
Several relatives who turned up at the hospital upon receiving news of the shooting desperately tried to console each other when it was confirmed that Harding was dead.

Police brutality Carjackers-Rosignol-Farouk

Thursday, May 18, 2006, Teixeira gets blunt with Police, Berbice victims
Seven Canada-based (Gopie Singh) members of the family, all of whom were robbed of cash and jewellery with a total value of millions of Guyana dollars, travel and other documents.

Thursday, March 04, 2010