Carjacker shot, accomplice held
The luck of a 22 year alleged carjacker ran out yesterday afternoon after he was shot twice in the knee by a police patrol in Princes Street.





Kaieteur News understands that Cheddi Bacchus, of Lot 28 Norton Street was shot shortly after he had relieved taxi driver Alden McCurdy of about $20,000 and his motor vehicle HB 2929 on Durban Street. He was transported to the hospital by the police. The vehicle was discovered abandoned on Princes Street.
This newspaper was also reliably informed that an associate of Bacchus was held shortly after the hijacking and is presently being detained at the Alberttown Police Station.
Up to press time the police were still combing the area to retrieve the firearm, which Bacchus allegedly had in his possession.
According to eyewitnesses, Bacchus was confronted by police and decided to abandon the car and run into the burial ground where he was shot in the leg.
Alden McCurdy, the taxi driver who was outside of the vehicle said that he had stopped to chat with his cousin on D'urban Street, when Bacchus approached him with a gun and relieved him of his keys, $20,000 and cell phone.
McCurdy's said that right after the bandits struck he immediately called the police. The police in turn confronted the bandits on Princes Street.
Residents in the area yesterday told Kaieteur News that Bacchus attempted to run away after he was cornered by the police.
The police in turn shot at Bacchus, wounding him twice in the left knee.
A hospital source said that the bullets shattered Bacchus' knee and his leg may be amputated.
McCurdy who has been working as a taxi driver for the past three years said it was the third time that he was hijacked, but this was the first one that ended so violently.
At the hospital yesterday was Bacchus's mother, Debra McKenzie, who said that she was at a funeral when her sister informed her that Bacchus was shot.
The woman said that she is flabbergasted by the entire incident, since her son is not known to be a trouble maker.
She said that her son worked as a part-time mason around the community. McKenzie also alleged that her son, who happens to be her only child, was constantly being harassed by the police.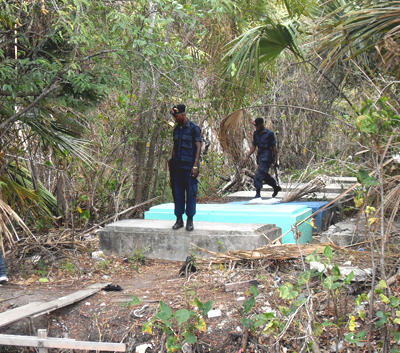 Police searching the burial ground for the fire arm.
The woman said that her son was arrested several times before but was never charged for any offense.
The distraught mother also said that her son was threatened by an officer in the x-ray department. She said that the officer told her son that if he tried to run, he would kill him.
Monday, April 05, 2010