'Cell Shop' burglarised, dozens of gadgets stolen
Shazam Ibrahim, the proprietor of Cell Shop on Light Street is now counting his losses as the store was broken into some time Thursday morning. Reports are that the breakage might have occurred some time around 03:00 hours.

The proprietor said that the security service, despite receiving an alarm, failed to respond.
According to Shazam Ibrahim, he received a call around 07:00 hours Thursday from the security service stating that his business place had been broken into.
Ibrahim said that he immediately went down to the store but notice that all the locks on the front of the premises were intact.


However, upon entering the building he noticed dozens of cellular phones missing from the show case.

Further checks revealed that dozens of other gadgets including Play station games, laptop computers, digital cameras, MP3 players, Ipods and cell phone accessories were missing.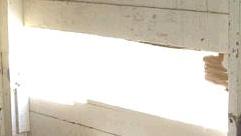 The businessman said that he also noticed that some boards from the ceiling were missing and from all indication the perpetrators made their way into the store from the upper flat of the building.


Ibrahim added that several pair of sneakers and pieces of clothing were also removed from the store.
The man said that further checks in the building indicated that the perpetrators spent a long time in the building. He explained that since the front of the upper flat in the building is all glass, the perpetrators used different items and whatever they could have found, to black out the entire glass. The man estimates his losses at close to one million dollar.
"You could see they block off the glass so that people couldn't see them breaking the floor to get into the store," one employee explained.
Ibrahim told this newspaper that this is the fifth time his store has been broken into since its establishment some ten years ago.