President attends cremation of HIV Counsellor
Written by
Tuesday, 23 February 2010
President Bharrat Jagdeo on Monday joined relatives and close friends of the late Seeraj Persaud, an HIV Counsellor who was found dead in the Parika Health Centre, his place of work, on February 15.
President Bharrat Jagdeo comforts family members at the cremation ceremony for Seeraj Persaud, HIV Counsellor
During a solemn cremation ceremony at the Kaashi Dhaam at Ruimzeight, West Coast Demerara, the Head of State met and consoled the dead manís parents, siblings and others gathered to pay their last respects. The Kaashi Dhaam facility was opened by the President in April, 2007.

On February 18 it was reported that a post mortem examination of the 42-year old HIV Counsellor revealed that he died of strangulation.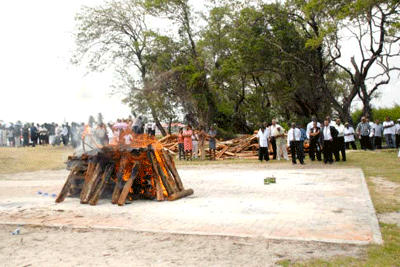 The cremation at Ruimzeight, West Coast Demerara.
On the day of his death he was found in a crouched position in his office at the health clinic with visible marks of violence on his neck. (GINA)