Shot taxi Service owner dies
-never regained consciousness
The taxi service owner who was shot in the chest by bandits, who robbed him of a computer and jewellery, yesterday succumbed at the Georgetown Public Hospital Intensive Care Unit, without regaining consciousness.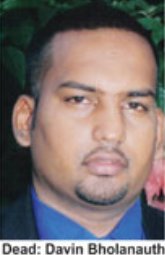 Thirty-three-year-old Davin Bholanauth, of Owen Street Kitty died shortly after 14:00hrs yesterday.
His wife, Julie Bholanauth, told this newspaper yesterday, that life without her husband would now be very difficult.
She described her husband as a very loving, funny and hard working man who tried his best to support his family.
The couple has two children, two-year-old Aaron and five-year-old Anika. The wife said that she was at home when the dispatcher called and told her that the taxi base was robbed and that her husband was shot during the robbery.
"After I heard that he was shot I immediately rushed down to the hospital" the woman said.
Fighting hard to hold back tears, she said that it was very hard to watch her husband lie in a hospital bed fighting for his life, a battle which he lost.
The woman further said that as a young couple her husband tried his best to achieve the best for his family, but now that her husband is gone it would be very difficult.
Bholanauth pleaded yesterday for persons who might have information concerning her husband's killing to come forward and give the police what little information they have.
Bholanauth who is the owner of Ezee Runnings Taxi Service was shot once to the chest by gun toting bandits shortly after 20:00 hrs at his Lot 46 Sheriff Street, Campbellville office.
Eyewitness had said that Bholanauth was shot at close range after he wrestled with one of the gunmen who were attempting to relieve him of a laptop computer.
Both bandits, according to the eyewitness, appeared to be in their teens. They escaped in a waiting car.
One of Bholanauth's employees said that Bholanauth was "hooking up the internet on his laptop" when two young men, who appeared to be no more than 17 years old, came up to the office and enquired about Digicel credit.
"One of dem jus push pass me and all I hear is 'Nobody don't move. Pass da laptop…pass da laptop."
One of the female dispatchers had told this newspaper that one of the bandits pressed a handgun to Bholanauth's chest while demanding the computer.
Bholanauth held onto the computer and a struggle ensued between her employer and the gunman.
According to the dispatcher, the robber eventually snatched the computer from the manager. He then shot Bholanauth in the chest. The men also relieved the wounded man of his chain and retreated from the office.
Thursday, January 28, 2010