Report into motherís death sent to medical council
Friday, October 24, 2003
The report into the death of a young mother in the maternity ward of the Georgetown Public Hospital (GPHC) has been formally forwarded to the Medical Council of Guyana which will conduct further investigations.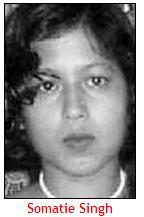 A source told Stabroek News that the findings by the hospital were forwarded earlier this week.
The council has reportedly responded to the hospitalís administration by way of letter informing that it would be conducting its own investigation.
Young mother, Somatie Singh of Mahaicony Creek, died on September 29 after she was forced to walk to the washroom instead of being given a bedpan which she and her relatives had repeatedly asked for. Singh had a pre-existing heart condition which doctors said required her to wear an oxygen mask at all times. Relatives say a nursing assistant reportedly removed this. The assistant denies this. However, she and a nurse have been sent on leave.
The decision to forward the report to the council was taken by the hospital and the Guyana Nurses Association.
The source told this newspaper that from all indications there was no negligence on the part of the doctors.
As was previously reported in this newspaper, the council only has the power to discipline doctors and not nurses who come under the purview of the nurseís association. The source said from all indications there had been some negligence on the part of the nursing staff.
The councilís report will likely be submitted to the hospitalís administration, nursing association and the Minister of Health.