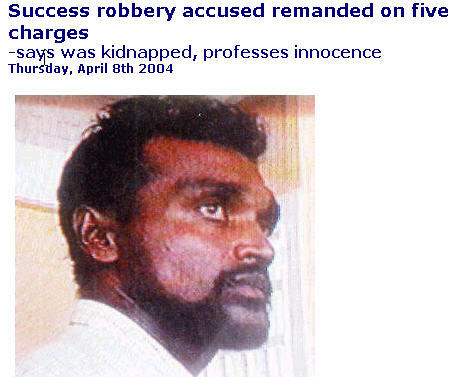 One of the two bandits who allegedly attacked and robbed a Success poultry farmer and his wife on Sunday and also opened fire on police was yesterday remanded to prison.
Deonauth Balram called 'Geewan', 38, of Lusignan, East Coast Demerara appear-ed before Principal Magistrate Jerrick Stephney at the Sparendaam Magistrate's Court yesterday. He was slapped with charges of attempted murder, one count each of possession of an unlicensed firearm and possession of ammunition and two counts of robbery under arms.
When the charges were read Balram was not required to plead and was refused bail.
He will return to court on April 30. Shortly after being denied bail, Balram was whisked to the nearby Sparendaam Police Station lockups to await his transfer to the Georgetown prison.
There were scenes of anguish in the courtyard after the magistrate's pronouncement with relatives, including Balram's wife, breaking down in tears.
Balram's wife, who fainted on hearing the magistrate's order, had to be attended to by relatives. Even after he had been returned to police custody relatives continued to insist that Balram was innocent of the crime and had been set up by persons unknown.
According to them, he had left home early Sunday morning with his cutlass for work at the Guyana Sugar Corporation and never returned that evening.
They acknowledged that he had left in the company of Gopaul Chowtie, whom police mortally wounded during a shoot-out at Success on the night of the robbery.
Relatives claimed Balram had been grabbed by a group of men who forced him to go with them in a car. According to them, he had never had any problem with police in the past and it was a complete surprise that he has been fingered in the Success robbery.
Balram, professing his innocence from his cell, said that after departing home early Sunday morning he was abducted by four armed and masked men in a white car and held for the duration of the day against his will.
According to Balram, the men had put him to lie flat on the floor of the car and commanded him to cooperate with them or be killed.
He said he went to Success, but had not entered the home with the bandit and had hid when he heard shooting after police arrived on the scene.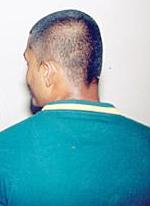 Police constable, Gavin Ricknauth was also injured in the melee.
The police said Balram and Chowtie had engaged them in a gun battle just after the pair had beaten and robbed, Jules and Leila Chabrol. Police constable, Gavin Ricknauth was also injured in the melee. The bandits, who were armed with an AK-47 rifle and other weapons, wore black masks and gloves and carried haversacks.
Around 8.30 pm on Sunday Chabrol and his wife had just returned from a wedding when the bandits struck. The couple was accosted simultaneously by the bandits who not only robbed them but also beat them. They were escorted upstairs where they were further mistreated and Jules bound with ropes. They were then forced to hand over a substantial sum of money, their licensed shotgun and a revolver with matching ammunition.