Gunmen attack, rob vendor, others outside Stabroek Market

A DARING early morning robbery yesterday by five men armed with guns and cutlasses in the Stabroek Market area resulted in several persons being beaten and robbed of cash.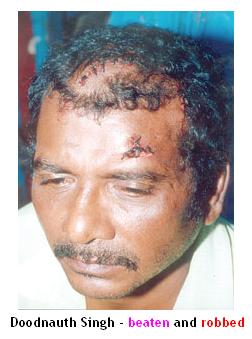 One of the victims, Doodnauth Singh, called Billie, from Canal Polder No. 1 on the West Bank Demerara, told the Guyana Chronicle that about 04:30 h, the usual time for him to purchase fruits and vegetables from farmers who unload their produce by the vehicle park near the Georgetown ferry stelling, he was accosted by one of the armed bandits.






Five men armed with guns and cutlasses

He said the man came from behind and choked him, emptying his pockets of $240,000 in cash. Forty thousand dollars belonged to him and he got $200,000 from his friend Mahendra Dilshan to buy produce for him, the vendor said.



The clearly shaken Singh said after the bandit relieved him of the cash he gun-whipped on the head, inflecting several gashes which had to be stitched at the Georgetown Public Hospital Corporation.

Singh said there were some people around, but they ran away when they saw the men were armed with cutlasses and guns.

After committing the robbery, which lasted only a few minutes, the bandits left the scene on foot, moving toward Lombard Street.
Singh said he has been doing business for more than 30 years at the Stabroek Market but this was the first time he was robbed of such a large amount of cash. "I was robbed before, but never so big," he recalled.

Meanwhile, the Guyana Chronicle learnt that another person in the area was robbed of his licensed firearm, most likely by the same group of bandits, and at least four other persons in the vicinity were also robbed of cash.

Vendors in the market expressed their disgust at the incident and are calling on the City Council for improved security at the market.

"People go abroad and develop themselves and in their own country they are not allowed to do so because of criminal activity," one vendor told the Guyana Chronicle.
Friday, March 31, 2006