New reign of terror at Vigilance
residents selling out in fear

By Shirley Thomas




A new reign of terror seems to be emerging in South Vigilance, East Coast Demerara, forcing many residents to hurriedly abandon their homes.

Many residents are having sleepless nights, but even as some, out of fear have fled, taking temporary refuge in the homes of relatives and friends in other villages, others are making arrangements to 'sell' their properties out, and have vowed they would be moving out of the now troubled neighbourhood permanently.




Houses abandoned

At least seven homes have recently been, or are about to be abandoned in South Vigilance, as families scout around for safety.


Nazir Khan and his family of seven are among the hardest hit, and the latest to be affected. Family members are still trying to come to terms with the horrifying experience of being awakened at 1:10 hours on Eid-Ul-Adha morning by the sound of a loud explosion in front of their yard - one which literally rocked buildings in the neighbourhood, and was heard from a great distance off.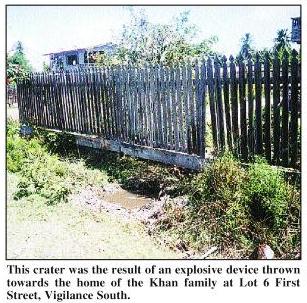 It was the sound of an explosive device which had been hurled at their home, they say, by some person/persons. But the grenade stopped short, and miraculously landed, not on the building, but on a parapet off the fence, just in front of their home.



So powerful was the device thrown, that a huge crater was created where it landed. Terrified family members got out of bed and huddled together in the living room, being afraid to venture outside. Khan said it was not until well into the morning that they ventured outside to enquire, at which time they beheld fruits from trees in the yard strewn all about the ground and in the trench as a result of the powerful explosion.


They said the security experts later came and collected the fragments.


But even though for weeks before, sporadic events of harassment were beginning to force some residents out of the neighbourhood, the Khans are of the opinion that perhaps nothing could be more life threatening.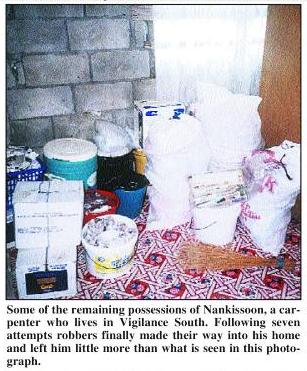 Almost with tears in her eyes, Bibi Fazia recalled that for almost eleven years she and her family had occupied a small wooden house on the lot before they were able to construct the home worth about $2.5 million which they now occupy. But sadly, their comfort would probably be short lived she surmised, since they moved into their new home around July last year, and almost immediately their woes began.


She said that on July 6, 2002 thieves entered their home and robbed the family of over $100,000. As a result, they were forced to apply heavy grill to the doors and windows.


Her husband Nazir recalled the good days when "you coulda walk the road in Vigilance and Buxton even 10 o'clock in de night without fear … But not now. As soon as 5.30 you got to lock up you house tight, tight, and keep inside," he lamented.


The family said that on two occasions, following the throwing of the explosive device, they were openly threatened by persons who confronted them and warned that their home would be bombed. Nazim said he was threatened around noon on Saturday, and his wife around 11:00 hours on Sunday.


Ironically, their eldest daughter who previously lived some distance away in South Vigilance, out of fear, and after constantly being harassed, decided to move back home with the family, but she has now found that even in her parents' home - it's no safe haven from the criminal elements.


The young woman and her husband are now wondering where next they can go.


Meanwhile, Bibi Fazia's sister who lives opposite is so badly traumatized, she too is putting up her home for sale, as have many of her neighbours. While some have been able to find shelter along the East Coast Demerara, others still have been forced to seek refuge in other Regions.


The residents are appealing for a meeting with President Bharrat Jagdeo, whose intervention they hope will bring some relief to their plight.
Tuesday, February 18, 2003