Family offers $1M reward for lead on unsolved murders
Relatives have put up a $1M reward for information that would lead to the solving of the murders of 18-year-old Trevor Julius Fung, slain in 2004, and his 78-year-old grandmother Rajkumarie Mahadeo, strangled in 2009.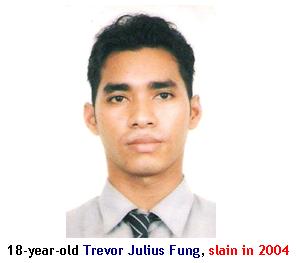 The reward will be given to anyone who provides information that would lead to the killers of Fung and 78-year-old Mahadeo being charged and convicted.
Trevor Julius Fung, a St. Stanislaus student, was stabbed to death by robbers on Valentine's Night, February 14, 2004, in the vicinity of Eping Avenue and Abary Street, Bel Air.

Unsolved killings soared in 2008 Soldiers-freed-cadet-death Ole-Higue-murder Residents_flee_village

The suspects were reportedly riding a blue scooter. The one that stabbed Fung was reportedly sporting shoulder-length dreadlocks.

Rajkumarie Mahadeo, the young man's grandmother, was found strangled outside her home on Christmas Eve Day, 2009.
Rajkumarie's husband, Mohabir Mahadeo, was murdered during political unrest on June 25, 1973. His murder remains unsolved, and his children have resigned themselves that it will never be.
But they say they are determined to do all they can to ensure that Fung and Mahadeo's killers are caught.
Persons with information about the murders of Trevor Julius Fung and Rajkumarie Mahadeo are urged to contact the police at Vigilance Police Station on 274-0900 or the nearest police station.
They can also call 6848611 or 683-6714.
All information submitted will be confidential.
Sunday, January 31, 2010