The death of Dharmattie Permaul, 21, of Toopoo, Corentyne, was sudden and shocking for her parents on Wednesday after she succumbed to self-inflicted poisoning, following a misunderstanding with two females.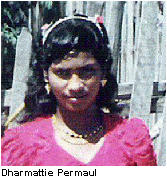 But they were in for another shock after she was buried at Hampshire cemetery, Corentyne, last Saturday.

According to reports, two fishermen were returning from plying their trade and were walking along the cemetery road when they saw a young man lying on the body of the corpse.

The man, who is in police custody assisting with investigations, allegedly requested the fishermen to help him take the 'girl' to the nearby church.

However, the two instead alerted the villagers who responded quickly and arrested the Guyana Sugar Corporation employee after he tried to escape.

Sandra Permaul, mother of the deceased, told the Guyana Chronicle that her daughter was buried in a yellow sari, but when she later the corpse, she observed that the dress was unwrapped and torn.

The father Latchmanan Permaul said the young man who allegedly removed his daughter's body from the tomb had earlier attended the funeral, but had remained a short distance from the graveside.

"He was still there when the family left the graveside", he said.

An uncle, Neil Awaghun Subandar, claimed that the man in custody was not a friend of his niece, who was a planter and weeder at the sugar estate, but was allegedly sent to commit the act.

The body of Dharmattie had to be buried again at 18:00 h after it was dressed again.
Tuesday, June 28, 2005