Home of GEA's head comes under grenade attack
The home of Mahender Sharma, head of the Guyana Energy Agency (GEA) and his wife, Marcia Nadir-Sharma came under a grenade attack Tuesday night. Fortunately the grenade did not explode.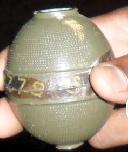 The attack has left many unanswered questions.
Sharma bought the home, located in Prashad Nagar, from David Narine who served a drug induced sentence in New York. He is out of prison having been sentenced to time served but he must undergo five years of supervised release.

Sharma moved there in 2006. Sharma is the son of Channel Six's owner, C.N. Sharma, while his wife is the daughter of Minister of Labour, Manzoor Nadir.
Mrs Nadir-Sharma is also the Deputy Head of the Privatization Unit/NICIL.
According to a press statement issued yesterday by Minister of Labour, Manzoor Nadir, the live grenade was thrown at the home around 23:30 hrs on Tuesday night while the official was at home with his family.

'Businessman' had reportedly threatened Alicia Foster Liloutie-Seeram-dead-dv
Fishing-crew-missing Canter-truck-shop Nightmare-LaPenitenance Guyanese-family-protection-Canada

The statement said that at the time of the incident, the couple and a guest were in the residence when they heard a thud against the building.
Upon investigating, they saw that the shade of the emergency light had broken off the building and on the ground. Later, around 01:30 hrs yesterday morning, when Sharma was letting his guest out, he discovered what appeared to be a grenade in the yard.
According to the statement, it would appear that the grenade may have been aimed at the bedroom of the couple but missed its intended target, landing just below the window.
Calls were made to the police with the bomb squad arriving at around 03:30 hrs and removing the grenade from the premises. The unit also combed the area.
"By the grace of God, what saved the couple and their five-year-old son's lives was that the grenade did not explode as clearly intended."
It was unclear yesterday who the perpetrators were.
Yesterday, Mr Chandra Narine Sharma said that he believed that the attack was related to the work his son is doing at the Guyana Energy Authority.

Thursday, March 25, 2010