'They just watch them and shoot… this was no robbery this was straight murder'
A large gang of gunmen early this morning slaughtered eleven people, including five children in a macabre, 20-minute carnage at Lusignan, East Coast Demerara during which the sole intent of the attackers was to kill.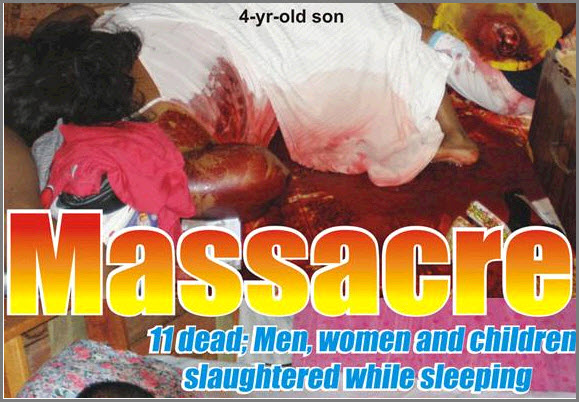 The bloody massacre left hundreds of residents angry and shocked and posed the most serious crisis yet to the administration of President Bharrat Jagdeo.
Up to mid-morning today tensions were rising in the village which has experienced its share of terror at the hands of gunmen in the past. There had been no major response up to press time this morning from the police, only the casual mobile patrols along the East Coast Demerara corridor.
Tract 'A' Lusignan Pasture was a scene of intense and deep mourning this morning and residents, some struggling to hold back tears, could hardly express their anger over the mass murder. It is the worst tragedy to have befallen the small farming community as the gunmen targeted five homes, shooting indiscriminately in their 20-minute blitz. The gunmen killed from one family, 48-year-old, Clarence Thomas, his 12-year-old daughter, Vanessa Thomas and his son, Ron Thomas. Two other members of the Thomas family Roberto and Howard Thomas also suffered serious gun wounds to their bodies and are patients at the Georgetown Hospital. Next door to the Thomas family, 32-year-old, Mohandai Gourdat and her two sons, four-year-old Seegobind Harrilall and ten-year-old Seegopaul Harrilall were also shot dead. The carnage was there for all to see this morning, the family virtually clutching each other as they lay beside their bed in a large pool of blood.
Kitchen
Across the road from this family of three, 22-year-old Shazam Mohamed was gunned down as he sought shelter in his kitchen. His father, Nadir Mohamed was shot in his leg and is receiving treatment at the hospital. In the next yard, 55-year-old Shaleem Baksh died after several bullets were pumped into his head. Across the road from Baksh, a couple and their daughter died hugging each other bracing a wall. They are Seecharran Rooplall, 56, his wife, Dhanrajie Ramsingh, 52, and their 11-year-old daughter, Raywattie Ramsingh.
The killings at Lusignan had come mere hours after gunmen in a car attacked Police Headquarters Eve Leary last night in an astonishingly brazen attack. Observers believe that that assault was a diversionary ploy to focus the security forces' attention in the city while the criminals created terror on the East Coast. Commander of 'C' Division Leroy Brummell who was on the scene around 3 am when Stabroek News visited Lusignan said that the attack was a wicked and barbaric one. He said the scene was unbelievable, noting that the gunmen had no mercy on children.
One resident, Roy Singh said that it was around 2 am today when he heard heavy gunfire in his street. He said when he looked out of his window he saw around 25 men dressed in dark clothing moving from house to house as they shot wildly. Gomattie Thomas, wife of Clarence said she was lucky not be killed when around eleven gunmen stormed into her home. "They came and shouted to open the door, but we did not bother with them so they started to shoot," Gomattie, with her eyes puffy from crying, said. The woman related that the gunmen kicked down their door and lined up her husband, Clarence, and the children and fired several shots at them. "They just watch them and shoot