Housewife surprises thief
Wednesday, October 13th 2004
A thief broke into an Exmouth, Essequibo Coast home on Monday and nearly carted off a CD player and a VCR but the householder returned home too soon.
Kavita Singh of Exmouth said she left her home around midday on Monday to attend a birthday party for a relative in the same village.
When she returned home at 7.30 pm, her two school-aged daughters were with her and the house was locked.

She said she saw someone at her gate and at the same time the lights from a passing truck shone on the person who then ran away. She said she then found her VCR next to the gate on the ground and as she went into the house she observed that the CD player was missing.
She said her daughters' bedroom was ransacked. Singh said she raised an alarm and as she and relatives searched around she found the CD player in a nearby yard.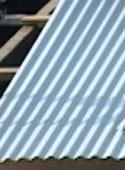 A galvanised sheet
The matter was reported to the police but no arrests have been made as yet.Singh said that the intruder removed a galvanised sheet from the roof to gain entry to her house.