President Bharrat Jagdeo has ordered a major rethink of tactics by both the police and army in light of their failure to combat crime and he was particularly critical of the GDF?s handling of recent incidents.

The President had earlier received the report on the 2002 countrywide crime consultations and briefed reporters about the government?s concerns. He said that despite providing all available resources to the security forces, they seemed to be achieving little success in arresting the situation.

The government has been severely criticised for the continuing rash of crime. The latest episode saw two men being shot dead and eight other persons injured in an attack on two businesses in Charlestown on Wednesday night.

He said a review would include all aspects of the operations. ?We have to keep working at it,? President Jagdeo said, while stressing that the criminals were killers who had little respect for the life.

He said the security forces have been receiving all the necessary moral, financial and even legislative support from the government.

But yesterday Jagdeo signalled his lack of satisfaction at the success of the forces whose duty it was to curb the current crime wave.

He referred in particular to Guyana Defence Force (GDF) ranks who had been in earshot of crimes and said the army had been sent to the East Coast by the Defence Board, in keeping with the laws of the country and with the intention of supporting the police in their crime fight.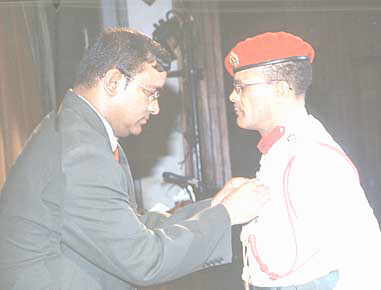 Two assholes. President Jagdeo (left) and Brigadier Michael Atherly.

?Clear instructions,? he said had been given to ranks as to their purpose in the operations which he had clarified with the GDF Chief of Staff, Brigadier Michael Atherly.

Soldiers were there to prevent criminal activities in addition to working along with the police to capture bandits, Jagdeo said. ?It is (their) duty and order to stop....suspects.? He said any soldier who did not respond to a crime was not complying with orders. In that case he said they should not be part of the armed forces as they were unable to comply with clearly defined orders. He said Brigadier Atherly had assured him that this was not the case, and that ranks were aware of their role, although he had information that some were acting contrary to these instructions.

Annandale residents were incensed last week that soldiers declined to pursue Buxtonians who had kidnapped two boys from the village. The boys were only freed after residents pursued the kidnappers and scared them off.

Turning to the police, President Jagdeo said that they had been encountering major difficulties especially with several of their colleagues being killed and others on road patrol being fired upon. He said this was made worse through assaults on the force by the media, some of whom apart from ridiculing the force gave the impression that they supported the criminals.

While it was his impression that there existed problems in the police force especially with instances of low morale, he believed that they were giving the situation their best shot.

He pointed to the number of arrests in Divisions A and C - 4,306 for both serious and minor offences - between November 1, 2002 to January 22, 2003.

But Jagdeo shared the view that operational issues among other areas might need to be addressed thus the need for the review.

Examining the situation in Buxton, the head of state said that evidence showed that mothers were willing to put their children at risk to facilitate criminal acts.

And he said when persons were killed by police following confrontations, relatives were suddenly heard to say how good they were.

It was on this basis that he had ordered a rethink since the current tactics and strategies were clearly not working.

Commenting on talk of securing overseas assistance including forces to combat crime, Jagdeo said that there were difficulties in acquiring support in itself much less that of troops.

He acknowledged that government had made a request for assistance from the US Federal Bureau of Investigations to combat the spate of kidnappings. Instead all they had received was a list of private agencies which undertook such investigations for a fee.