A suspect is in police custody following an armed robbery at Section 'C' Clonbrook, East Coast Demerara, early yesterday morning.

Police-non-response
Burglars strike - calls to the police were futile


The victim, Ricky Kumar, 39, of Dovie's Grocery Shop told the Guyana Chronicle that it was about 03: 15 hrs on Thursday morning he was awakened by the loud sound of glass breaking.
By the time he realised his glass sliding door was shattered and he could scream for "thief" "thief"

his bedroom was kicked opened and he came face to face with two masked gunmen.
He was taken from his bed and placed to lie of the shards of glass on the floor and kicked about the body.
The bandits, who he said was dressed in dark clothing and military boots carried machine guns, began beating him for money and jewels.

Machine guns

They also placed his wife to lie on the ground while they took Kumar to the lower flat of the building, a gas stove with water boiling and threatened to pour it on him.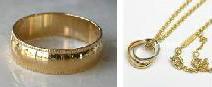 There he took him to the shop where he handed over a substantial amount of money, the day sales, a cell phone, a DVD player, jewellery and a camcorder.
The men began beating him again and ordered he hand over more money, while seven other occupants including, children were locked inside their bedrooms.
Kumar said he pleaded with the robbers not to hit him anymore since it was all the money he had.
He added that the two bandits spent about half hour in the house, where they tore open his wardrobe door and ransacked the bedroom.
The gunmen also disconnected their landline telephone, after neighbours, who were awakened by Kumar's screams began calling to enquire what was going on.

Neighbours reported that a third bandit was keep watch at the back of Kumar's yard and they arrived in a white vehicle and gained entry to the premises via the front gate but exited the scene using the back yard which they can access several alleyways and streets.
Kumar yesterday displayed the marks of violence on his body and said he has been in the wholesale and retail grocery business at the location since 2007, when he moved from Berbice, after he was brutally beaten, during a robbery by a group of gunmen on May 22, 2007.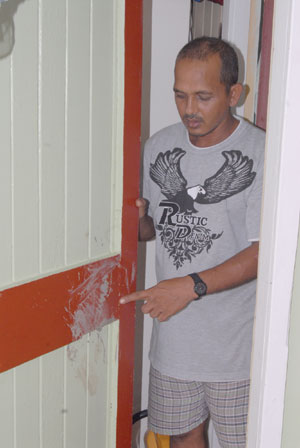 Ricky Kumar showing the muddy boot print left by the bandit who kicked down his bedroom door

He said that after the bandits left his house he telephoned the police at Clonbrook Police Outpost but they said they had no ranks nor vehicle, he then called Cove and John Police Station where he was informed by ranks manning the station to go pick them up in his vehicle since they had no patrol.
He said they claimed the patrol was at Timehri and there was nothing they could do and asked him to call Timehri Police station.
Frustrated Kumar noted that he then telephoned the Vigilance Police Station and after sometime a group of policemen arrived at his house.
The businessman also said he had summoned the Mahaica Police via the telephone but they only keep asking him how the bandits gained entry to the building and said they will come but never did.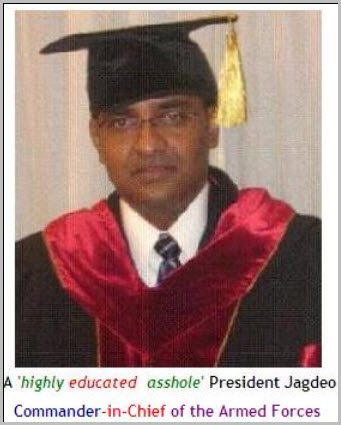 Meanwhile, a press release from the Guyana Police Force (GPF) yesterday said they are investigating an armed robbery that occurred at about 03:30 hrs yesterday at Section 'C', Clonbrook, East Coast Demerara, during which businessman, Ricky Kumar, 39, and his family were attacked and robbed by two men armed with firearms.
Investigations have revealed that the two men entered the victims' home by breaking through a glass sliding door and held them at gunpoint. They then took away an undisclosed sum of cash and a quantity of jewellery and escaped.
A suspect has been arrested and is in police custody.