Lance Corporal Latchana cremated
By Michel Moses

LANCE Corporal 14177 Ramnarine Latchana, who was fatally shot on March 1, at the Brickdam Police Station when former policeman Solomon Blackman went berserk, was cremated yesterday at the Good Hope Crematorium, East Coast Demerara. He was accorded full military honours.
Latchana family members (from left) mother, Coonia, daughter Samantha and wife, Rohini, Home Affairs Minister Ronald Gajraj and Commissioner of Police Winston Felix among the congregation at the funeral service of Lance Corporal Ramnarine Latchana yesterday at Life Spring Ministries.
(Picture by Winston Oudkerk)

The cremation followed a moving service at Life Spring Ministries, Kersaint Park, La Bonne Intention (LBI), also on the East Coast.

Minister of Home Affairs, Mr. Ronald Gajraj, Commissioner of Police, Mr. Winston Felix and other senior officers and ranks were among scores who paid homage to the 39-year-old policeman who reportedly died on the spot after Blackman shot him.

Latchana's body was at the Merriman's Funeral Home, Lime and Bent Streets, Wortmanville, yesterday morning before it was taken to his residence, Ruimveldt Police Station Compound.

At the church, tributes were paid, solos were rendered and poems were recited. The Police Band and its Mixed Voice Choir also paid musical tributes.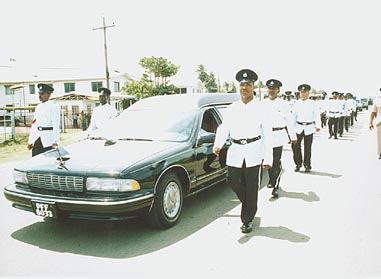 Policemen in ceremonial attire escorting their colleague's body to the Good Hope Crematorium yesterday afternoon.

Many of Latchana's colleagues could not contain themselves during the service and the tears flowed freely.
The policeman's daughter, Samantha, his wife, Rohini, and his mother, Coonia, wept throughout the service.

Reverend Balgobind Ragnauth, who conducted the service, presented a Bible to Minister of Home Affairs, Mr. Ronald Gajraj, and prayed for Commissioner Felix and the Guyana Police Force.
When the service concluded, Latchana's body was taken to the Crematorium, a short distance away. There, Latchana's daughter, wife, mother, other relatives and colleagues burst into tears as his pyre was set alight.

All the police flags at Police Stations, Outposts and other Police locations were flown at half-mast yesterday.
The other policeman killed in Blackman's reign of terror, Deputy Superintendent Richard Griffith, 53, is to be buried later this week. Three other policemen were injured in the attack. Police Corporal Clifton Nelson was shot in the face, stomach and mouth and is a patient at the Georgetown Hospital; Police Constable Kester Cosbert was shot and is now nursing wounds to his leg and head; and Constable Royston Paddy was injured after he jumped through a window to escape the onslaught.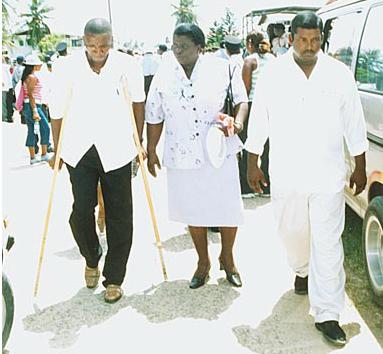 Constable Kester Cosbert, who was shot during Blackman's rampage, came out on crutches yesterday to bid his colleague farewell

Blackman, a former member of the Tactical Services Unit (TSU) appeared in Court Friday afternoon to answer two charges of murder and two of attempted murder.

Sunday, March 07, 2004