-assailant goes into hiding

A MOTHER of two is dead, and her mother hospitalized at the New Amsterdam Hospital with multiple injuries about her body following a chopping incident yesterday at their Edinburgh New Housing Scheme home, about four miles south of the township of New Amsterdam.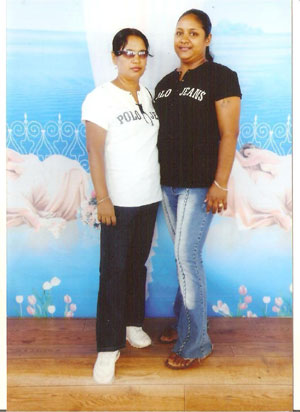 MOTHER AND DAUGHTER: Lata Indredeo (left), called 'Cheryl', 'Teacher', 'Lata' and 'Miss', with her now deceased daughter, Liloutie Seeram, called 'Pinky'

Dead is 31-year-old Liloutie Seeram, alias Pinky, who suffered years of domestic abuse at the hands of her common-law husband, Rooplall Boodhoo, called 'Kelly'. The injured mother's name has been given as Lata Inderdeo, called 'Cheryl'.
According to Ramnarine Seeram, he last spoke to his granddaughter shortly after 20:00h on Friday evening when she telephoned to find out how he was doing.
At the time, the distraught man said, he was looking at a religious programme on television.
After retiring to bed, he said, he was awakened by one of the suspect's relatives who asked that he go to the New Amsterdam Hospital mortuary to identify his granddaughter 's body.
Seeram said he did not hearken to the request as he did not believe the story. He, however, had a change of heart when a member of his granddaughter's church sought him out whilst crying uncontrollably.
"She did not say anything, although I questioned her," Seeram said, adding: "But my next door neighbour came forward, held my hand whilst saying: 'He chop she up; she nah get finger; he chop she up in she head.'"
According to Seeram, his granddaughter endured a violent relationship, and whilst the couple lived with him, "was constant torment."
At the couple's home, blood stains could be seen leading from their bedroom all the way to the front of the yard.
The suspect's sister-in-law, who gave her name only as Angalie, said that around 02:00h, her husband returned home breathless, saying: "Kelly [his brother ]chop up Pinky, an' he gone wid a rope an' a cutlass saying he gon hang he'self."
Angalie, who lives with her husband a street away from where the murder occurred, said that on arrival at the scene, she saw a badly-wounded 'Pinky' lying in a "crumpled position" in a corner of the bedroom, and bleeding profusely. But in spite of injuries, Angalie said, she was still alive. "She was alive; her eyes were slightly opened, and she was breathing softly."
Meanwhile, a neighbour of the slain woman, who spoke on condition of anonymity, recalled hearing shouting coming from the direction of the couple's house shortly after 01:30h but dismissed them, as that was a regular feature of the pair.
She said that shortly after hearing the screams, the suspect was observed "going up and down" the front stairs.
"During that period," she said, "I heard his brother say: 'Oh God, Kelly, look wha' you do.' Afterwards, a car enter their driveway and me observe somebody being lifted into the vehicle."
The neighbour said she would later learn the seriousness of the matter, when she heard that 'Pinky' was dead and 'Kelly' missing.

Another neighbour claims that at around 02:00h, she saw the suspect and his brother lifting 'Pinky', who was covered in blood and still dressed in her nightgown, whilst her mother, who was also injured , kept saying: "You see how Kelly chop we."
Said source recalled seeing at around 02;00h 'Miss [ referring to Lata Inderdeo]' run across an empty house-lot next to her home and call out for help.
Noting that the woman's hands appeared to have been severed, the source said that being afraid, she did not venture out of her house, and minutes later saw a car drive up and take both mother and daughter away.
A friend of the suspect, who also did not want to be named, claimed that he and Kelly were earlier in the evening at a rum-shop in the village drinking as they had nothing else to do seeing that it is 'out-of- crop season', referring to the current lull in cane-harvesting.
He said that between 00:00 and 01:00h, "I dropped home Kelly. But before I left, I heard someone say: 'What you come here for at this hour?'" About half an hour later, he said, "he (Kelly) called me saying: 'Meh jus' kill Pinky' before hanging up the phone."
The Police said in a release late yesterday that investigations are underway, and that every effort is being made to apprehend the suspect who escaped after allegedly committing the acts.
They gave as the location in which the crime was committed Glasgow New Housing Scheme, East Bank Berbice, and the time around 01:30h yesterday.
They said that based on their investigations, "Liloutie Seeram and her reputed husband had a domestic argument, during [the course of ] which he is alleged to have chopped her about the body with a cutlass. Her mother, Cheryl Seeraj, 52, intervened in an attempt to protect her, and was chopped to her right shoulder and left hand."
Both women, the police say, were taken to the New Amsterdam Hospital, where Liloutie (Pinky) succumbed to her injuries, while her mother has been admitted a patient.
Pinky and Kelly has two children, namely Nicholas, 10, who is preparing to write the National Grade Six examination, and 13-year-old Nerissa, who is a second form student of Berbice High School.