A FAMILY operating a dry goods shop at Triumph Village, East
Coast
Demerara was beaten and robbed at gunpoint of an undisclosed amount of cash by a gang of three men on Sunday evening.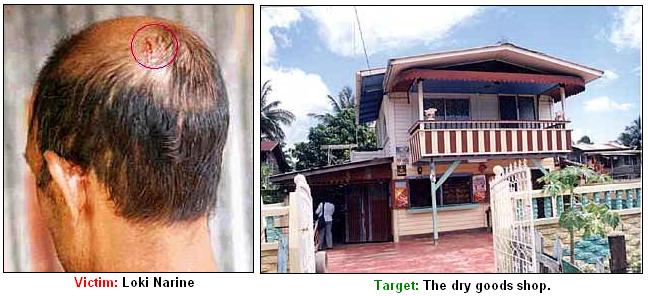 (Corwin Williams photos)
Mr. Loki Narine, 50, and his wife, Mrs. Druphattie Narine of 123 Triumph Village were sitting in their shop on Sunday evening around 20:00 hrs when they were robbed.



According to Loki, he was selling a case of lemonade to a regular customer when another man approached him for a case of beer. He proceeded to sell the man the beer, when another man approached him and placed a gun to his head telling him not to move.
The man he was selling the beer to proceeded to take Druphattie into the kitchen, demanding that she give them money. She gave the money they had downstairs but was unaware of the amount.




Loki said that a third man was outside the gate with a machine gun.


He recalled that the man holding the gun to his head told the other holding his wife to "kill she."


The father of three said he tried to move and that was when he was hit with a gun and sustained a gash in the head. He was also bruised in an ear and on the neck and he and his wife were also cuffed on their mouths.


After the bandits got the money, they escaped, one on a bicycle and the other two on foot and according to the Narines and their neighbours, they used the 'back dam' road.

According to Loki, the robbery lasted about 10 minutes and police arrived at the scene shortly after.