River floods:
Relief teams move in
By Neil Marks

STRICKEN residents along the Mahaicony River began receiving potable water yesterday as the government moved to get relief to hundreds of households affected by floodwaters as a result of the rising river caused by excessive rainfall upstream.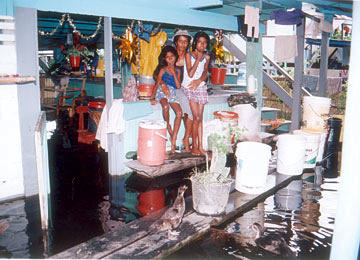 DESPAIR: Jennifer Baksh holds her daughters Francina, left, and Fiona under their house at Mora Point, Mahaicony. Their bottom flat is under water. (Delano Williams photos)


Farming communities in the Mahaica and Abary rivers are also affected by floodwaters but those in Mahaicony are worst off, officials said.

Commissioner of the Civil Defence Commission, Colonel Chabilall Ramsarup, who visited communities in the Mahaicony River yesterday, said the water rose as much as six inches.

He said the CDC is coordinating the supply of potable water for residents and this will be distributed through stationed tanks at strategic locations.

When the Guyana Chronicle visited families hit by the floods, they said drinking water was their greatest need, along with finding higher ground for their cattle.

Ramsarup said four teams from the Ministry of Agriculture were sent into the Mahaicony and Abary rivers, looking for high ground for livestock and to treat them on location.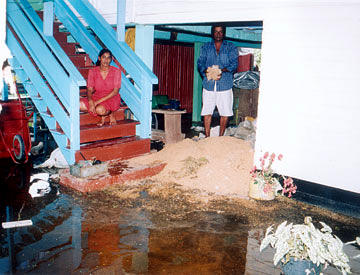 LOST: Rice farmer Janack Jadu of Mora Point, Mahaicony holds seed paddy which he intended to sow, but his rice land is inundated.


Health teams were also dispatched into the rivers.


Minister of Human Services and Social Security, Ms Bibi Shadick was in the Abary River and she told this newspaper no house had potable water.


She said some water was still settled in the yards of some residents but it was draining off.


Shadick said an official of the Region Five (Mahaica/Berbice) administration has been tasked with visiting every farm in the river to assess losses.


She said the concentration is on the small farmers who depended for their livelihood on their kitchen gardens and rearing chickens, ducks and small cattle herds.


Shadick also indicated there was no health risk in the Abary since no one was reported sick.


However, medication for rash, diarrhoea and other illnesses related to floods were left with residents, the minister said.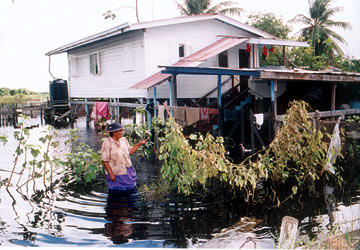 GONE: Dhanrajie Samaroo of Mora Point, Mahaicony points to her destroyed garden


Public Works Minister Harinarine Nawbatt yesterday visited affected communities in the Mahaicony River.


In this hard-hit river, residents had stories of despair to share.


Janack Jadu, a farmer at Mora Point said on December 21 and 22, he sowed 55 acres of seed paddy for this rice crop, but all have been washed away.


He had intended to sow 70 acres, but the paddy left for sowing the additional acreage was lying under his house yesterday, some germinating from the floodwaters washed up.


He explained that he had more than 70 ducks, but cannot locate most of them, unaware of where they took off to.


Also at Mora Point, we met Jennifer Baksh, who hurried down from the confines of the upper flat of her home and being careful not to get into the contaminated water.


During the devastating January floods this year, she and her husband were diagnosed with Leptospirosis, a flood-related disease which also hit many others during that catastrophe.


She said then she was "up and down" in the water trying to save her ducks and livestock, but this time around, she is not taking the risk.


The woman explained that her kitchen garden has been wiped out and she has no way of knowing where her ducks are.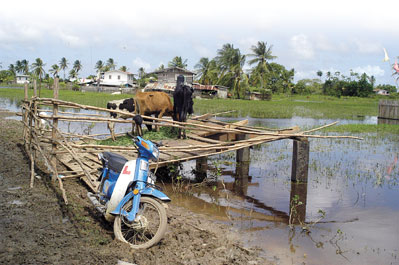 At the time we visited, her husband, Jairam Samaroo, was looking for their cattle which likely escaped to find dry land. She said two calves were already dead and a goat kid which was just delivered most likely died and was washed away.

Next door, her mother-in-law, Dhanrajie Samaroo, waded in water up to her knee to show us her devastated kitchen garden of bora, ochro and other vegetables.

There were similar stories from Mortice to First Savannah in the Mahaicony River.
Thursday, December 29, 2005