Man appeals for $1.7M donation for heart surgery
Ronald Bobb, 74, of 53 Stone Avenue, Blygezight Gardens, Georgetown, is appealing to the public for donations to assist him with the cost of his heart surgery in the sum of $1.7M.
He only has $150,000 to date and is using medications that are also very costly until he acquires the needed amount to have the surgery.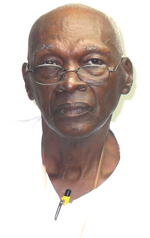 According to Bobb, while he was exercising on the seawalls last month he felt a sharp pain in the left side of his chest and down the arm and back.
He said that he lay on the ground for a period and later managed to cross the road to hire a taxi that later carried him to the Georgetown Public Hospital Corporation (GPHC).
Bobb disclosed at the hospital, that he visited the Caribbean Heart Institute (CHI) where he later discovered that the left side of his heart was enlarged and three vessels were blocked.
He added that after receiving an ECG, Dr. Singh recommended that more tests be done and he would need to have a surgery.
"I never made claims to NIS and an official at NIS said that if I had made claims before I was 60 I would have qualified." Bobb said.
He further added that the tests to be done are Echocardiogram, $16,000, Angiogram $240,000, First stent $832,000 and each additional stent $624,000.
Bobb revealed that he also had a stroke on his left side and is a diabetic. He needs any assistance that can be given to him from any willing donor.
He further said that anyone willing to assist him can make donations at an account at GBTI, the number is 262538-2 at the main branch in water street Georgetown, and his telephone number is 652-1154.
Sunday, March 07, 2010