Berbician chopped to death

…suspect in custody, Kissoon sodomised him frequently
ANGOY'S AVENUE, NEW AMSTERDAM – A known drug addict in New Amsterdam was chopped to death at his home yesterday.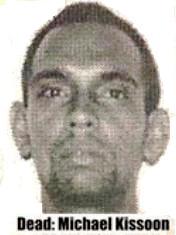 The suspect is said to be a fellow 'junkie' who shared the same house. Dead is 37-year old Michael Kissoon of Lot 28 Angoy's Avenue. His assailant later turned himself over to the police.

Murder weapon, a cutlass

The murder weapon, a cutlass, was also recovered.
When Kaieteur News showed up at the residence yesterday, the house was tightly secured and no one was around. Neighbours declined to comment.
Linden_outpost Linden-bm-freed

According to reports out of Division 'B' of the Guyana Police Force, the suspect, who is no stranger to police, admitted that he dealt several chops to Michael Kissoon.
The suspect reportedly admitted to police that Michael Kissoon sodomised him frequently while he was under the influence of narcotics and asleep. He said when he awakens he has to endure the discomfort in the rear. One of those episodes took place on Saturday night and when the suspect got up on Sunday he confronted his molester. About 09:45 hours on Sunday an argument ensued.
The suspect reportedly told detectives that he picked up the cutlass and chopped Michael Kissoon on the back of the head, right ear, right hand, left side head, left shoulder and left upper arm. Kissoon collapsed and appeared to be dead.
Moments later, the suspect went to the Central Police Station where he reported the matter and was detained. According to police reports, the victim was taken to the New Amsterdam Hospital where he was pronounced dead on arrival.
An autopsy is expected to be performed today Monday.
Sunday, April 11, 2010