The Presidential landscape is becoming very interesting on a daily basis with another PPP stalwart announcing his desire.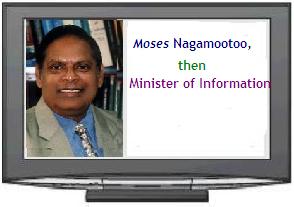 At first it was Donald Ramotar, then Clement Rohee and now Moses Nagamootoo.
It's not only frightening but very embarrassing to have a President Clement Rohee or Donald Ramotar, leading a nation that produced some of the most eminent scholars in the English speaking Caribbean.
While Mr. Nagamootoo has been trying to show that he is a changed man, I must hasten to say that "those who forget the past are condemned for the future." Guyanese need to be wary of Moses Nagamootoo because of his blind allegiance to the PPP. This man is reluctant to criticise the PPP and Mr. Jagdeo for some of the mess they have foisted on the Guyanese people. I am not in the least surprise by some of his utterances during his interview with SN [07/03/10].
For instance, this man is proud to say that he is a "PPP Man" and would not even consider running as an independent in spite of all the nepotism, corruption and scandals that characterized the PPP Government over the years.
In my opinion, Mr. Nagamootoo showed the nature of the beast when in response to a question on Jagdeo's reign of power he gave a vague response in an attempt as not to anger the party, supporters and Jagdeo and the possibility of not hurting his chances of winning the nomination.
However, anyone analysing his responses can easily surmise that he feels that Jagdeo has become a dictator.
When he opined that Jagdeo was "focused and not bothered by repercussions and interventionists…" it shows clearly that the "buck" begins and ends with Jagdeo and that nothing but his desires matter.
Thanks Mr. Nagamootoo for confirming what Freddie has long been saying of Jagdeo's Presidency - Dictatorship.
Finally, did Mr. Nagamootoo misspeak when he gave Mr. Jagdeo a "satisfactory" for his leadership and in the same breath says that, "waste and extravagance should be curtailed, while corruption also needed to be shut out as well as abuse of power by officials holding public office?" Mr. Nagamootoo, just be clear on your positions and stop trying to be politically correct since that will only hurt your chances if there are any.
Ridley Croft
Monday, March 08, 2010