No new leads in Crabwood Creek murders
CRABWOOD CREEK, CORENTYNE - Detectives in Division 'B' of the Guyana Police Force have made no headway in solving the murders of two women from the Crabwood Creek area.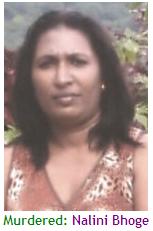 So far, the police have found no new clues and there are even reports that one of the suspects has fled the jurisdiction.
Earlier this month, Government Pathologist, Dr. Vivikanand Bridjmohan ruled that 43-year old Esther Albert also known as 'Kamla' of Bhanjara Sawmill Dam, Lot One Grant 1803 Crabwood Creek on the Corentyne was manually strangled.
The woman's body was found in the home she shared with her husband and children on March 2. Her husband, Daveanand Albert, also known as 'Brother' has since disappeared but, from the inception he was of interest to police.
Over the weekend, a source from the Guyana Police Force indicated that based on information received thus far, the man could be hiding out in neighbouring Suriname after fleeing the country via the 'backtrack' route.
It is alleged that Esther Albert and her husband had returned home after imbibing alcoholic beverages on Phagwah day. An argument reportedly ensued during which Esther was allegedly slapped and struck with a 'pointer' broom.
The body bore two wounds on the head, one on the left eye and another on the forehead. The suspect's sister, Shanta Mohan, lives one house away from the couple and said she did not hear or observe anything unusual, "Is she and she husband…me brother been
home after they done drink. Them children didn't go home with them right away. So when 'Brother' tell me Kamla dead, I tell he go to the police.
He say he ain't got money so he go to we mother and she give he $500 to go to Skeldon (Springlands) Police Station and report it. You know what he do? He ain't come to the police station fuh report it, he get away. He disappear."
The couple's 12-year old son Trevor Albert recalled coming home and finding his mother lying on the ground.
"When we go me see Mummy lie down on a ground. She head full a blood, she face full a blood, all she mouth swell up and full a blood. She eye been shut and she nah been talking. She just groaning all the time and lie down on the floor. All me Daddy deh doing is cussing she out. He tell she nuff word, all kinda thing he cuss me mother 'bout."
The child suspects that the incident stemmed from his mother's activity earlier in the day, "He just cussing me mother up all the time and he ain't stopping and all she doing is groaning and deh lie down on the ground. Me father cuss she because he vex me mother been a dance at Vishal house."
The child said his father instructed them not to tell anyone so he could not call out for help. Esther Albert was the mother of five children. The two older ones were from a different union.
On January 25, the body of 43-year old Nalini Bhoge was found in her Lot 19 Line Path home. The mother of three was discovered with her neck almost severed and a chop to the back of her head. At the time of her demise she was said to be alone at home. Police had recovered a cutlass and an ice pick which were suspected to be the murder weapons.
Early February, Commander of Division 'B' of the Guyana Police Force, Assistant Commissioner Steve Merai had indicated that during the course of the investigation at least ten persons were detained over a one-week period including the dead woman's husband Boodh Bhoge called 'Minku' a sugar cane farmer. They were grilled and released, thus providing detectives with something to work with.
It is alleged that when the husband left their home on that fateful day to accompany his two younger children to the Skeldon Primary School, his wife was cooking.
When he returned home, he was reportedly of the view that his wife was in their daughter's bedroom. He then made his way to the verandah and after a few moments he went to get his spectacles.
At that point he allegedly observed a few things which appeared to be unusual in the master bedroom. He decided to push the door and saw a drawer ransacked. At this point he apparently began calling for his wife and it was then the horrific discovery was made.
Police were working on a number of theories but there is yet still not enough evidence to lay any charges. Also of interest is the fact that investigators have not ruled out robbery as a motive since money was said to be missing from the home. The husband claims that a quantity of cash was in the home but since workers had to be paid, he could not say if his wife had paid wages to anyone. A bag containing five United States passports belonging to the family was found at the back of the yard.
Monday, March 15, 2010