An overseas-based Guyanese was found murdered in his home yesterday afternoon by his son.
Dead is Ishwar Mithu, 65, of 73 Peterís Hall, East Bank Demerara.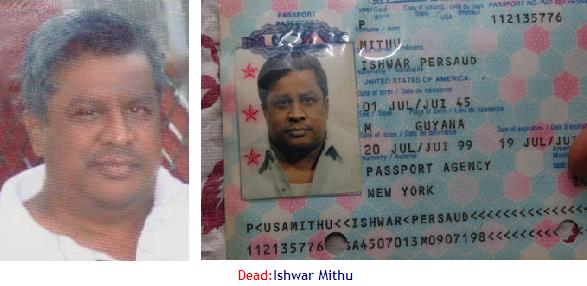 His son, Rameshwar Mithu, said he discovered his fatherís body in the bedroom at about 15:00 hours yesterday,after he received a telephone call from the female cleaner.
The woman claimed she did not see him all day and saw the grill work on a window cut open.
The young man added that when he entered the premises, he realised that something was amiss when he saw the grill work of the window on the lower flat of the building cut open and the back door ajar.
He said the entire house was ransacked and everything was strewn all over.

Seeraj-cremation

The younger Mithu explained that when he entered his fatherís bedroom he saw his fatherís body.
His hands were bound with a sheet, his feet were tied with a pants and it appears as though he was smothered with a pillow, since there were no marks of violence on the body.
Mithu told the Guyana Chronicle that his father lived alone since his return from the United States a year ago, and he used a hearing aid as he was deaf in both ears.

He last saw his father alive on Tuesday around lunch time when he visited him at home. Mithu noted that most of the household appliances were missing, including the television, washing machine, gas cylinders, DVD, music system, blender, and microwave.
He added that the killers gained entry to the building by removing several louvre panes and cutting open the grill work.
Three different sets of muddy footprints were observed in the building and it is believed that the killers entered the yard via the back fence where they removed a zinc sheet.
It is apparent that the killers spent a lot of time in the house since every part of the building was searched and ransacked.
Neighbours said they did not hear anything last night.
A wake will be held at the home of the dead manís mother at 305 Herstelling on the East Bank Demerara.
He is the second family member who was murdered. His brother, Puran Persaud Mithu, was shot and killed in 1979 on Emancipation Day, during a robbery in the city.