Post mortem shows woman was stabbed ten times
- slashed on hands while warding off attack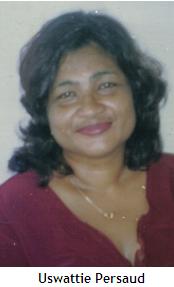 Forty-seven-year-old Uswattie Persaud fought desperately for her life before her attacker plunged a kitchen knife ten times into her body in the Bel Air apartment of Cuban physiotherapist, Guillermo Valintin Martinez Stable.
The fatal wounds were to the throat, chest and stomach.

This was revealed yesterday during a postmortem which was performed by Government Pathologist Dr. Nehal Singh.
According to an official, the postmortem also showed that Persaud sustained slashes on both hands.
The source said that the wound indicated that the Berbice businesswoman had attempted to grab the killerís knife and to block the fatal stabs.

Her injuries also included blunt trauma to the head.

Investigators believe that Martinez killed Persaud before taking his own life. But detectives are still to examine the fingerprints they lifted from a bloodstained knife they found in the Cuban physiotherapistís apartment.
Investigators are still to ascertain what triggered the brutal attack.

They believe that a laptop computer that was retrieved from a water-filled washing machine may hold the answers.
Meanwhile, an official said that the postmortem on Martinezís remains has been delayed because police are waiting for one of his colleagues to come forward to identify him.

The decomposing bodies of the two victims were found at Lot 136 Eping Avenue, Bel Air, shortly after 14:00 hrs on Thursday.
Persaudís nude and mutilated corpse was found on a blood-soaked mattress in the hallway.

Police said that the womanís body bore stab wounds to the throat, chest and stomach. Some investigators suspect that she was attacked while sleeping on the mattress. Police retrieved a bloodstained knife from the apartment.
Martinezís body, with no marks of violence, was found on his bed.
He was clad in a pair of three-quarter pants.
According to a source, he was lying on his back, with his hands on his chest. His spectacles were nearby.
Police stated that the Cubanís mouth was filled with an unidentified liquid, which they suspect he ingested.
Investigators took samples of the liquid which is to be tested in the police laboratory.

A son of the slain woman had told Kaieteur News that he last saw his mother alive last week Wednesday, when she told him she was going to the High Court in Georgetown.

He said that he visited the Brickdam Police Station the following day and reported her missing when she failed to return.
Tuesday, March 09, 2010