SHALLOW grave victim Parbattie Camille Seenauth
- "Her body was discovered…after neighbors tipped off police that someone was seen burying a corpse in a shallow grave in the yard. - Guyana Chronicle, 2/22.
One day she called, and she was crying. We tried to find out what was wrong, but she would not say...and then she hung up' - victim's brother Seemangal
SHALLOW grave victim Parbattie Camille Seenauth, 31, (also called 'Paro'), was yesterday buried at Le Repentir Cemetery in Georgetown, amid a flood of emotions from close relatives gathered at her graveside to pay their last respects and catch a final glimpse of her badly-battered body.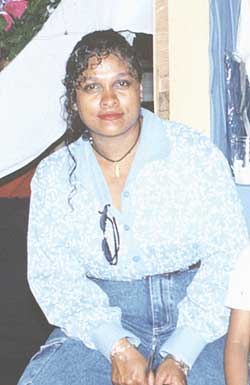 Parbattie Camille Seenauth


Relatives said the post mortem examination performed on Monday revealed that she died from strangulation and sexual assault, and that there were several marks of violence about her body. There was also evidence of bludgeoning to the forehead.



Her body was found early last Friday morning in a shallow grave in the yard of reputed `spiritual healer', Patricia Alves, at Second Street, Alberttown, Georgetown.



Alves, 41, the prime suspect in the case, was still in Police custody last night.



Deep anguish and outrage was evident in the expressions of Seenauth's relatives as they watched her coffin being lowered into the muddy grave yesterday. What began as a bold attempt at rendering familiar 'parting' hymns, soon saw the parson rendering a solo.



Among the mourners were her two sisters - Vadwattie and Deowattie, brother Seemangal and aunt Ramrattie Hardyal, who all travelled from the Essequibo Coast and the Pomeroon River for the funeral.



They all huddled together, trying desperately to comfort an elder aunt, Mrs. Parbattie Lall fondly referred to as Aunt Doris, who lives at Montrose, East Coast Demerara, and with whom Parbattie had been living prior to moving in with Alves, the 'spiritual healer' at the centre of the saga.



But while the physical burial was preceded by a service at the Lyken's Funeral Home, on John Street, Newburg, the interment did not mark the close of ceremonies at the ground. As the tears began to subside, mourners were once again stunned by what turned out to be the contents of a travelling bag handed over to them by the Police, purporting to be Parbattie's 'personal belongings'.



Instead of the deceased's clothing and other things, the bag, from which emanated intermittent wafts of objectionable scents, contained more than two dozen candles - of various colours, sizes, and fragrances - a dinner bell; a calabash; cosmetics; photographs of various Hindu deities; and a quantity of 'confusion powder' and other items.



A family friend, Pastor Deonauth of the Zeelugt 'Faith in Jesus Ministry', East Bank Essequibo, readily and fearlessly volunteered to dispose of the bag and its contents by burning them at the graveside in the presence of all assembled.



While it could not have been ascertained what other personal belongings Parbattie had with her during her stay with Alves, relatives said that apart from the bag, the only other thing they received from the Police was their sister's gold wedding band, which she had on her finger when the body was exhumed from the shallow grave in Alves' yard.


FASHION CONSCIOUS
They recalled her keeping important documents in a large brown envelope. She was also the holder of a valid passport since she had lived in Venezuela once, they said.



Weeping, Aunt Doris, who once suffered a stroke, related that Parbattie had spent about a year and nine months at her home in Montrose. Comparing her then, to what she looked like at the time of her death, relatives recalled her being on the chubby side "...and very fashion conscious."



Aunt Doris recalled with horror the day Parbattie told her that she had found a job and was going to become a 'live-in' domestic, but she did not say where she was going.



"I didn't want her to go, but she promised me she would phone me, and that she would come back to see me the next Sunday. She left and I never saw her back nor even heard from her."



She also recalled her niece leaving the home on a Monday - somewhere around the last week of November or the first week of December, in 2000. Until last week when they heard of her death, no one knew where she was, the relatives said.



Aunt Doris said she'd really liked her niece, as they both shared the same name. She'd also tried her best to make her comfortable and happy. During the months the young woman spent at her aunt's home, she had indicated an interest in doing computer studies which her aunt financed.



"She went to Global Computer School; she was bright and passed four examinations very quickly," Aunt Doris said. However, as she was preparing for the fifth exam, she was seriously injured in a vehicle accident, and was hospitalised for some time.



After seeing Alves on television recently, relatives who went to visit Parbattie while she was in hospital, recalled seeing that same woman at her bedside.



"She was visiting her, and now we feel that they might have known each other for a long time," one suggested.



Meanwhile, brother, Seemangal, had another story to tell. He said that while his sister was yet at their aunt's at Montrose, they had heard regularly from her. But after she left the home there was a breakdown in communication.



Then one day his wife received a telephone call from her, and a contact number. Thereafter, they spoke a few times on the phone.



"But one day she called, and she was crying. We tried to find out what was wrong, but she would not say...and then she hung up," he said.



After that, she did not call them back, and because he and his wife were worried, the brother said they called her a few days later. However, the reception was not warm, and she warned them not to call back the number.



This might have been as recent as two weeks ago, he said.
February 15 - 22, 2002