Mahaica man alleges police brutality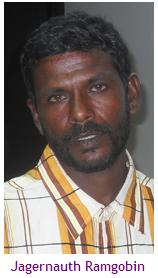 Given recent well publicized incidents, police ranks would most likely have been more circumspect when dealing with prisoners. Try as they might to avoid negative publicity, however, there has been another allegation of brutality.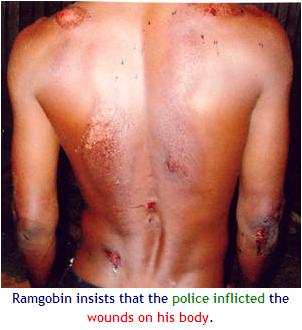 With bruises on his back, arms and shoulders, 24-year-old Jagernauth Ramgobin of Riverview, Unity, Mahaica, East Coast Demerara, claims he was badly beaten by two police ranks when they arrested him on Tuesday night.
Ramgobin, a fisherman, spent a night in the lock-ups at the Mahaica Police Station and immediately contacted this newspaper upon his release on Wednesday afternoon.
He has also visited the police's Office of Professional Responsibility.
But the police at Mahaica have disputed Ramgobin's account of what transpired and accused him of fabricating a story to make the force look bad.
Ramgobin related that he was dragged from his home and beaten, placed into a car trunk, taken to the station where he was again beaten and forced to sign a statement.
Ramgobin's arrest reportedly stemmed from a problem his brother had with another villager.
According to the fisherman, on Tuesday night his brother had an argument with another man, during which his brother struck the man with a piece of wood and ran away.
Ramgobin opined that the police, having not been able to arrest his brother, decided to take him into custody instead.
He related that the two policemen barged into his house and grabbed him, and without telling him the reason for their actions, they dragged him downstairs towards their vehicle, beating him about his body in the process.
"They put me in de trunk and drive off. Then dey stop and tek me out and beat me again. I ask dem wha dey beating me fuh and dem ain't tellin me nothing, but dey lash me in me head with a baton," Ramgobin said.
At the station, Ramgobin was thrown into the lock-ups.
He also alleged that a senior rank enquired from the two policemen why he was being beaten, and that they told the officer that he assaulted them and tried to escape while being brought to the station.
"Me ain't know how me can assault two policeman," Ramgobin said.
He stated that the ranks wrote out a statement and gave it to him to sign, and when he refused to do so, he was beaten again.
"Me can't read and write so me nah even know wha me sign," Ramgobin told Kaieteur News.
The man said that after signing the statement he was kept in custody for the rest of Tuesday night and then sent on station bail, without charge late Wednesday afternoon.
When contacted yesterday, police at the Mahaica Station said that Ramgobin's wounds were not inflicted by the ranks that arrested him.
A source at Mahaica told this newspaper that contrary to what Ramgobin is saying, it was he who was involved in the fight with the other man.
The police are certain that he sustained the injuries during the fight.
"The Sergeant was there when he was arrested and he did not mention anything to him. The corporal who took over spoke to him and he did not say he was beaten," the source said.
Acting Divisional Commander Leroy Brumell said that he was looking into the matter.
The allegation comes in the midst of the trial of two policemen from the West Coast of Demerara who are accused of torturing a 14-year-old boy who was in police custody assisting with a murder probe.