| | | | |
| --- | --- | --- | --- |
| Post mortem reveals VCT counsellor was strangled | | | |
Written by
Thursday, 18 February 2010
A POST mortem examination yesterday revealed that National AIDS Programme Secretariat (NAPS) Voluntary Counselling and Testing (VCT) employee,
Seeraj Persaud died from manual strangulation.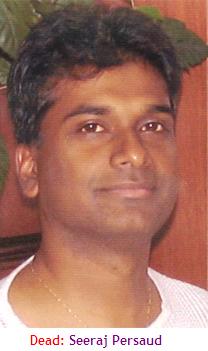 As a result of the revelation, Police have begun investigations into the murder of the man who was found dead on his office floor at Parika Health Centre, East Bank Essequibo, on Monday afternoon.
No arrest has yet been made but reports said a male visitor was the last seen leaving the victimís office although the person was not identified and there is no register of visitors to his clinic, because of the confidential nature of his work.

Mosquito-plague-New-Amsterdam

Persaudís brother, Dyal Jee Persaud told the Guyana Chronicle yesterday that the deceased will be cremated on Monday and efforts are being made to contact his wife, who lives in Russia.
He added that a wake is being held at the home of the dead man where the locks on the doors have been changed, as the keys to his house were among his missing belongings, including a laptop computer and cellular phone.
The man said his sibling was a very respected and liked individual in the community.
Colleagues described the murdered man as a model worker.
The 42-year-old lived at Lot 8 Hydronie Street, Old Road, Parika.
Another brother, Yugoul Kumar Persaud and co-workers said Persaud did not appear to have any problems and NAPS National Coordinator, Ms. Deborah Success-Hall acknowledged they have lost a great worker who will be sadly missed.