'Ole Higue' saga victim gets emotional farewell


Radika Singh, the 55-year-old woman beaten to death in the `Ole Higue' saga at Bare Root, East Coast Demerara, was laid to rest yesterday amidst more drama.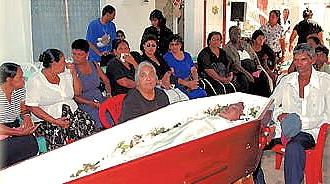 SAYING FAREWELL: Husband Ram Singh and others at the funeral service yesterday for Radika Singh
The deceased, of Lot 713 Phase One, Good Hope, also on the East Coast, was buried after an emotionally charged funeral service conducted by Bishop Terrence Jaskaran, of Bible Victory New Testament Church of God, of which she was a member.
During the proceedings, at the home of her sister, Lot 105 Mon Repos, some relatives were inconsolable as they viewed the broken corpse in the coffin and wept openly while others screamed her name. The dead woman's husband, Ram Singh, 51, as well as her neighbours, touched her face and held her body as they cried. People who did not know the woman expressed their condolences, too.
Her son, Mahendra was not at their home where she was taken for viewing but, after a fight broke out, the remains were hurriedly transferred to her sister's residence. Singh's bloodied body was found on the roadside at Bare Root last Saturday morning after an alarm was raised claiming she was an 'Ole Higue' who sucks the blood of human babies. A post mortem examination revealed that she died as a result of haemorrhage due to blunt trauma in the head.
Two men and a woman, Roland Spencer, 41, Rayon Bobb, 28 and Alita Roberts, 25, were charged for the unlawful killing and appeared at Sparendaam Magistrate's Court on the murder charge Wednesday. All from East Coast Demerara, as well, they were remanded to prison by Magistrate Yohance Cave until May 10.
Friday, May 04, 2007