The rice industry has come a long way
For some 250 years now, rice continues to make its presence felt on the Guyanese lunch table. This is so because from the start of rice cultivation in the country, it became a staple food in all Guyanese households. It is remarkable that the African forefathers who came to this country as slaves gave birth to the rice industry which was later advanced by East Indian Immigrants from India. Today rice has become one of the backbones of the Guyanese economy, having grown from strength to strength over the years.


Rice has indeed come a long way, and this year we are celebrating the 100th anniversary of Guyana being a rice exporter, despite its checkered history of mixed fortunes brought about by changing political leadership of the country, which at one stage had threatened the industry with extinction, as most farmers had at one time given up hopes on the industry and started to abandon their cultivations.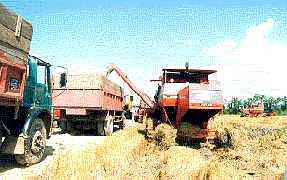 However things have changed again for rice farmers and the industry as a whole, as another political change sixteen years ago, has transfused fresh blood into the industry and once again bringing it back to buoyancy. Rice farmers are now taking advantage of the several incentives that have been given to the industry by the government over the years, and now once again rice is making its mark on the international market, raking in more earnings for farmers.

We congratulate the current crop of players in the rice industry as they observe the 100 years of Guyana being a rice exporter. In this respect the Guyana Rice Development Board (GRDB) held a logo competition. The winning entry entitled: "Rice, our history, our life" is to be used during activities to mark the centenary celebrations, which according to the General Manager of the GRDB., Mr. Jagnarine Singh will include:-

*An International Rice Conference at the Guyana International Convention Centre on November 7 and 8.

* The honouring of persons who had made significant contributions to the rice industry.

* A trade show and exhibition.

* A documentary on rice production.

* A centennial rice magazine.

* The production of a rice handbook.

We believe these are all activities that would further point the way forward for the development of the rice industry, especially at a time when the world is facing a shortage of food supplies.

It is noteworthy that although Guyana started cultivating rice some 250 years ago, it was not until about 1907 that the country became an exporter of the commodity and ten years later it became a net exporter. Currently our country is a major exporter in the Caribbean.

The rice industry is growing very fast and all indications are that with the current trend of food supplies and high prices on the world market, Guyana's rice will be going places and the commodity will continue to contribute to the economy for the development of our country and its people.
day, July 31, 2008