Armed men attack Mainstay family
Five masked bandits, three of them armed with handguns, attacked the Seecharran family at Mainstay village on the Essequibo Coast last Monday evening.
Handguns
Farmer Sew Vishnu Seecharran said that his little daughter fell asleep and he carried her upstairs to her bed. Whilst returning downstairs, at around 21:10hrs, he said that he was greeted by two of the masked bandits who demanded money from him. He said that he replied in the negative. "I don't have any money," he said he told them.
Mr. Seecharan said that one of the bandits hit him with an iron rod in his head but he maintained that he did not have any money.

An iron rod - Stabroek News
But the persistent beating by the bandits forced him to tell them that there was money downstairs in a purse. He said the intruders decided to follow him downstairs where they were greeted by Mrs. Sooknarine Seecharan.
When she saw the bandits she also told them that she hadn't any money. The bandits then turned to her and started to physically assault her. She received a lash to the head. The men then relieved Mrs. Seecharan of her wedding band, bangles and earnings.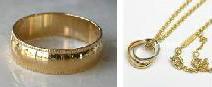 Seecharran's 32-year-old son Vashishtha was reportedly shot in the right side of his chest by one of the masked bandits when he went to his parents' assistance.
The young Seecharran is now a patient at the Suddie Public Hospital
In the end, the gunmen reportedly managed to escape with $200,000 in cash and a cell phone.
The bandits also stole Seecharan's wallet containing his driver's licence, identification card and some revenue stamps.
Police who subsequently made a thorough raid in that area after being alerted by public-spirited citizens about the robbery have arrested three known characters.
The police also indicated that they intend to do hold an identification parade. One of the bandits had also left a boot on
Wednesday, February 24, 2010