Supermarket owner beaten and robbed
- getaway car found at Enmore
Armed bandits struck at Mahaica last night but thanks to quick action by the police, they did not get too far.
Their car was nabbed at a home in Enmore with its engine still warm.
The occupants of the home have been detained, including the registered owner of the car, after they gave conflicting reports of the movements of the vehicle.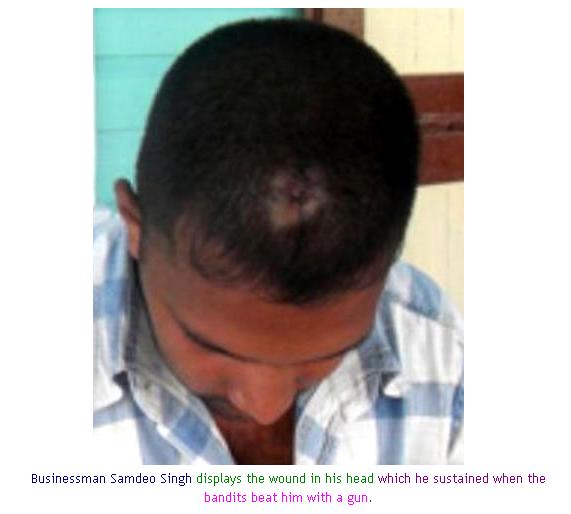 At around 20:00 hours the bandits had attacked Samdeo Singh, the owner of the S&S Supermarket, located at Helena number one, Mahaica, just as he was nearing his home a mile away after completing business for the day.
Speaking with this newspaper yesterday, Singh said that he had closed his business and was heading home in his car with his wife and three year old so when he observed a silver grey Toyota 212 motorcar, proceeding slowly in front of him.
He said that the car turned into the street where his home is situated and slowed down considerably in front of him to block his path.
"I blow to get past. I gave him a light but he did not allow me to pass but he turned and blocked the road. Within seconds they came out from their vehicle, two of them including the driver. They tied their faces," Singh recalled.
He said that one of the men put a gun to his head and demanded a bag in which he had placed the cash from his supermarket sales.
Eventually, another bandit grabbed the bag but the businessman and his wife refused to loose the moneybag.
The bandits then decided to use extra force.

A gun

"They hit me in my head with a gun and it was blood all over. They took the bag and threw it into their car."
Singh stated that the men went to their car and must have had second thoughts that they would be followed so they returned to him and demanded his car key.
"One of them said 'look, I will take this child' my three year old son. But they took the key and they drove away," the businessman told this newspaper.
He said that he managed to identify the registration number of the bandits' car since it was illuminated by his vehicle light from behind.
As soon as the men left he managed to contact the police who responded and tracked the car down to Enmore.
However, the money has not been recovered.
A senior police official told this newspaper that one of the occupants of the Enmore house told police that the car was parked in the yard just after sundown, while another occupant related that the car had gone to Parika and was not at home when the robbery was said to have occurred.





According to Singh, the cash stolen by the bandits amounted to about $3M and represents the entire last week's sales.
Monday, February 01, 2010
I