HIV counsellor found dead at Parika Health Centre
A HIV counsellor/tester was yesterday afternoon discovered dead, lying in a crouched position on the floor of his office at the Parika Health Centre with suspicious marks around his neck.
Dead is Seeraj Persaud, 42, of Lot 8 Hydronie, East Bank Essequibo. A laptop computer, keys, an expensive cellular phone and his wallet were missing.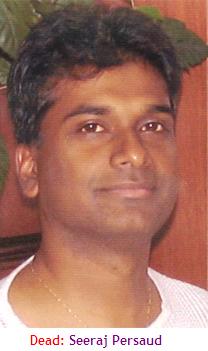 Linda Johnson, the facilityís health visitor, recalled that some time after lunch, she saw someone enter Persaudís office but did not pay much attention to who it was. She said that two women, who had scheduled counselling sessions with Persaud, were sitting outside the office for some time and one of them eventually decided to knock on the closed door.
Johnson explained that because of the confidentiality involved, Persaudís door would always be closed during sessions. After knocking several times and getting no response, the woman decided to open the door and saw Persaud on the floor.

Post mortem reveals VCT counsellor was strangled Iraq-death-and-misery

Three-car-smash-up Engine down, fire rages

Robber-electrocuted Bibi-Satar-gun-butted Police-car-cyclist-dead Maha-Shiva-Raatri-10
According to Johnson, the woman informed a volunteer, who on checking found Persaud in a crouched position on the floor and ran from the room screaming. This was around 1.50 pm.
Officers at the Police Station, located obliquely opposite the facility, were informed and they immediately began conducting investigations. She added that the police found no weapon or blood in the room but some of the manís valuables, including an expensive cell phone, were missing.
Johnson said Persaud had been at the health centre for some three years. She said she last saw Persaud alive just before lunch, when he took a booklet to her. She recalled that he was his usual cheery and chatty self. He later left to go home for lunch.
His death, she said, would also be a huge blow to the hospital, since he was attached to the antenatal clinic, where he would test and counsel pregnant women. She said that today, such a clinic will be held and she was unsure if one of Persaudís colleagues would have the strength to fill the position.
Meanwhile, Persaudís brother Boyo was in tears as he spoke to this newspaper. He lives a few houses away from Persaud and recalled that his brother visited his home yesterday morning and had breakfast. The man said his brother never expressed any fears about his job and never complained to him about any troubles he might have had. He said that when he saw his brotherís body there was a fine line around the neck.
With tears rolling down his cheeks, Boyo said that Persaud was to perform a religious ceremony on Sunday to commemorate their motherís one-year death anniversary. The man said that the incident has left him in shock, adding that his brother returned here in 2002 after living and studying in Russia for 18 years.
When Stabroek News visited the health centre yesterday afternoon, persons were still discussing the incident. One woman who saw the body said that it was in a strange position.
According to her, Persaud was on his knees and the rest of his body was in a crouched position. The woman added that the palms of his hands were folded outwards and were resting on his chest. She added that the room looked normal and there was no blood.
Yesterday, persons close to Persaud were adamant that he was a victim of foul play and the perpetrator/s used the closed-door session as an opportunity to commit the act. No one in the health centre or the immediate environs noticed anything suspicious prior to the body being found.
Persaud leaves to mourn his wife, Natasha who returned to her homeland, Russia some time ago and four siblings.