Four face the court on children sex abuse charges
Öone goes to jail for nine months on another conviction
Four men appeared before Magistrate Sherdal Isaacs-Marcus, yesterday, at the Vigilance Magistrateís Court, jointly charged with carnal knowledge of three sisters aged nine, eight and seven years at Enmore.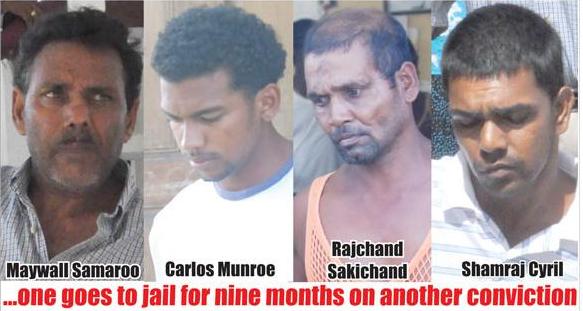 The four, Rajchand Sakichand, Maywall Samaroo, Carlos Munroe and Shamraj Cyril were not required to plead to the indictable charge.
The charges stemmed from a report to the Human Services Ministry and to the police that the three sisters had reported to an aunt at West Demerara that they had been sexually abused while they lived with their parents at Logwood, Enmore, East Coast Demerara.
The eldest had reportedly gone to school when someone reported that she had been caught in a compromising position with a schoolboy. This sparked the auntís curiosity and subsequent disclosures.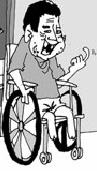 The children told a tale that was akin to a horror story and led the police to apprehend the accused. Yesterday, the police said that they are seeking three others who appear to have gone into hiding.

Yesterday, when the matter was called, the four were unrepresented and were remanded to prison. The case took a strange twist when the magistrate recused herself from hearing the preliminary inquiry against Sakichand whom she had jailed in absentia earlier. The magistrate had imposed a nine-month jail term.
Sakichandís wife, Chandradai Singh, had gone to the police with a report that her husband had assaulted her.
On the day of his trial the man failed to appear in court and was jailed. Yesterday, the woman was in the Vigilance Magistrateís court with other members of the community. She admitted to the beating and said that she was in court when the sentence was imposed but that she and her husband were appealing the sentence.
Sackichandís matter has been transferred to the Georgetown Magistrateís Court where he will appear on March 3, next. The others were remanded until March 17.
Attorney at law Michael Sommersaul turned up later to represent Samaroo and Cyril, causing the magistrate to recall them.
She then duly noted the appearance of counsel and continued to remand the men to prison until March 17.
Meanwhile, the Human Services Ministry says that it has mounted its own investigation.
The aunt took control of the children last year July but she sent them home to their parents for the Christmas holidays.
The Human Services Ministry says that it wants to ascertain whether the children were also abused at West Demerara.
One of the victims claimed that she had suffered the abuse for almost two years while at Enmore.
Saturday, February 20, 2010