Knife wielding bandit robs family of close to $1M
- beats head of home into unconsciousness
The Singhs family, of Plantation Phillip on the Essequibo Coast , remains in a state of fear after a masked bandit broke into their home and carted off $800,000 in cash and jewelry on Thursday night.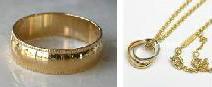 The bandit, who was armed with a knife and a container of mace, tied up one of the family members and beat another, while demanding their valuables in an attack that lasted for almost 15 minutes.
Reports stated that the family was asleep, when around 22:45 hours, the bandit removed several louver panes and gained entry to their house.
At the time of the break-in, Naiomi Singh, her father, who is a pensioner, her mother and a niece were in the house.
Naiomi told Kaieteur News that the masked man first entered her room through her opened door and immediately set about tying her up, after placing a knife to her throat.
He then demanded cash and sprayed a burning substance in her face, after hitting her on her head and hand.
As she lay on the floor panting for breath, the bandit proceeded to her parents' room.
John Singh, the head of the home, who was also beaten by the bandit, said he could not remember a thing, since he had lost consciousness after the bandit struck him in the head.
The bandit then proceeded to break open a cupboard in the room, where he took out $300,000 cash and $500,000 in jewelry, before leaving in a hurry.
Upon checking later, the family discovered that their kitchen downstairs was also ransacked and a bicycle among other articles was removed.
Police are investigating.