Strathspey still a 'ghost town' after post-jailbreak robberies
By Michel Outridge

During the spiraling crime wave since the Mash Day 2002 jailbreak residents at Strathspey Railway Embankment, East Coast Demerara, were forced to abandon their homes and seek refuge in other villages.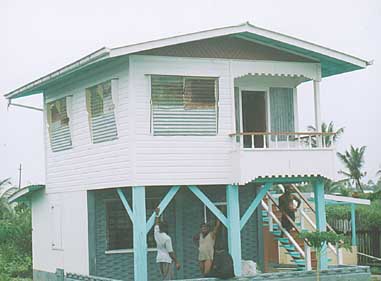 The house, which was robbed by, armed bandits with its windows replaced by zinc sheets after they were stolen.

Some ten families packed up and left the village after they were robbed and terrorized by bandits.

Three houses were broken down and taken elsewhere after several incidents of robberies rocked the neighbourhood. Some residents endure severe beatings from armed bandits while others lost most of their worldly possessions.

Recently, when the Guyana Chronicle visited, all the houses along the Railway Embankment at Strathspey were locked up while some were missing zinc sheets, doors and windows.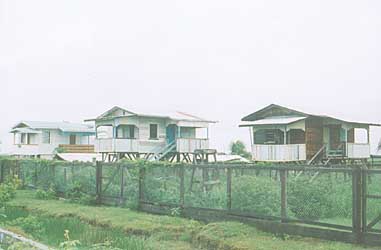 Three of the seven abandoned houses at Strathspey Railway Embankment, East Coast Demerara.

One resident told this newspaper that his home was robbed last year August by armed bandits, who tied up his two relatives for some three hours and carted off with household items, clothing, a water pump, bicycle, groceries. They even helped themselves to bread and butter as they were terrorizing the victims.


Most of his material possessions were stolen.


Soon after the incident he emptied his house and moved away to ward off any further attacks.


The cash crop farmer said that one day he returned only to discover his crops were poisoned and zinc sheets on roof of his house, wooden doors and windows missing.


Presently he is living at a relative's in a nearby village and has to seek other ways and means to earn a living, since his crops were destroyed and venturing to his home was dangerous, considering it is only a stone's throw away from the troubled village of Buxton.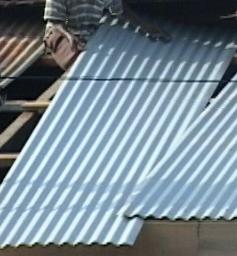 Zinc sheets

"They (bandits) took away 15 zinc sheets from my house. It is empty, yet they broke the locks and entered. Living here was terrifying. We plan to move back into our home because we have nowhere else to go," stated the man.

Another resident related that she comes to check on her house sometimes and even the fruits are missing.

However, Strathspey Railway Embankment remains a ghost town.
Friday, January 09, 2004