Gunmen terrorise, rob West Demerara family
A MOTHER and her teenaged son were beaten, terrorised and robbed Monday night when four gunmen invaded their Wallers Delight, West Coast Demerara home.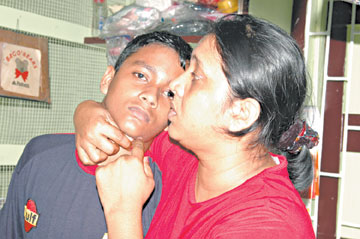 Surjaptti Dhanchan demonstrates how the gunman held her son Munesh.


Surjaptti Dhanchan called 'Savo', 41, and her 14-year-old son Munesh were treated for wounds on the face, head and back at the West Demerara Regional Hospital and sent home.

The gunmen carted off more than G$100,000, US$1,000, two diamond rings and two pairs of sneakers from the Lot 25 Wallers Delight home in an ordeal which lasted 15 minutes.

Dhanchan's daughter Nandanie said the family operates the Savo Flat Shop which sells grocery and alcoholic beverages.

She said that around 20:00 h, her mother was in the shop locking up and her brother cleaning up outside when two of the men entered the shop and ordered Guinness. One remained inside while the other went out on the road.

According to Nandanie, after a few minutes, the other man returned to the shop, holding her brother with a gun in his mouth.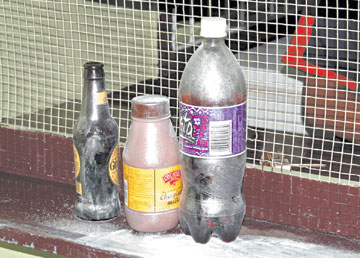 The drinks that the gunmen ordered.

The other man, she said, then grabbed her mother's hand through the window from which groceries are handed to customers, and demanded that she open the door leading into the house.
However, before her mother could respond, two other men appeared and kicked open the front door and took them into the house.

Another man who does handy work around the area and was helping her brother clean at the time was also taken into the house, Nandanie said.

Once inside, one of the gunmen rummaged through the wardrobe and took out a sari and tied it over the handyman's eyes and ordered him to lie on the bed.



The gunmen then began beating the two and demanding money. The woman said her mother handed over a bag containing $150,000 but the men still wanted more.

They then took two rings she was wearing, $15,000 from Munesh's pocket, two pairs of his sneakers and left.
According to Nandanie, while in the house, one of the gunmen called someone on his cellular phone and demanded to be picked up because they were finished.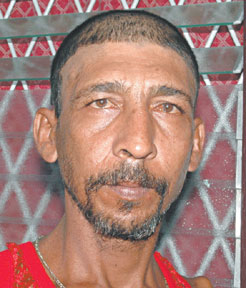 Handyman Khanai Gobin who was tied up in the house.


A traumatized Surjaptti said that when the man went into the shop, he demanded money and said that it could either be a robbery or a murder. The woman said that she then began to tremble and was forced to follow the gunman's orders.

She said that it will be difficult to restart her business since she is out of money.

The men also ransacked the shop, took about $35,000, fired three shots in the air and fled in a waiting white car which was parked across the road.
sday, August 24, 2006