Taxi man, 70, murdered by 'passengers'
A A regular work night turned deadly for a 70-year-old taxi driver when he was stabbed by his passengers and robbed of cash before being left to die in his car on a lonely street in Stewartville, West Bank Demerara.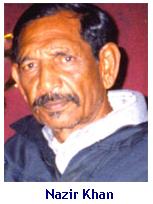 Dead is Nazir Khan of Lot 172 Parika Railway Line, East Bank Essequibo and an employee of Rockers Taxi Service also located in Parika. He is also an insurance officer and a school bus driver for an Islamic School located at Meten-Meer-Zorg.
According to information reaching Stabroek News, Khan was last seen around 11 pm when he left the base with two passengers bound for Stewartville.
Several hours later, around 6 am he was discovered in a reclined position in the driver's seat with a stab wound in the chest area and parts of his body, including his face, covered with blood.
When he was found, $18,000 that he had left home with and his earnings for the night, as well as his identification card, were missing.




The car PLL 5548 was found in an area which is not very populated and no one recalled hearing anything unusual before the discovery was made. It is unclear if the murder weapon was recovered at the scene.
Up to press time last night no one had been held over the incident which has the appearance of a robbery gone bad.
When this newspaper visited the place Khan had called home for the last 34 years, his wife and neighbours were distraught over his brutal passing.
His wife, Budhia called Sursattie tearfully recounted that Khan left the house for work around 8:30 pm after counting $18,000 which he said he had for someone.
She said that around 11:30 pm she tried contacting him on his cellular phone on several occasions and was unsuccessful, getting voicemail each time. Becoming a bit worried, Budhia stated that she called the taxi service and was told by the dispatcher that her husband "gone out pon a wuk" and he was unable to assist her with more information.
The woman said that she then contacted her son who is a presidential guard and he informed her that a body was found at Stewartville and since his father could not be contacted he had gone to check it out. Budhia said that she suspected that it was her husband and shortly after her worst fears were confirmed.
According to her, her husband sustained a stab wound in the region of the heart and blood was also evident on his foot. The money he had left home with along with his earnings up to the point when he was killed, were missing she said. His cellular phone was subsequently discovered a short distance away from the car.
Fighting now to hold back her tears, the mother of two said that Khan had only been operating the taxi which belongs to his friend for nine months now.
Stabroek News was told that the man had no enemies and was a very jovial and caring person. Those who knew him are convinced that the incident was a robbery/murder.
Samad Hussein, one of his friends told the media yesterday that two strange men went to the base that night. Stabroek News understands that it was these men who subsequently hired Khan to take them to Stewartville. The man recalled that when he saw the body at the Leonora Cottage Hospital there was blood on his face. He said one person could not have killed him. "Why would they kill him", Hussein questioned.
His remains are at the West Demerara Hospital mortuary awaiting a post- mortem examination. Khan is the latest in a long line of taxi drivers to be murdered since 2002 by criminals. Dozens of others have been hijacked, barely escaping with their lives.