Student stabbed to death returning to house party

By
Michel Outridge

POLICE are investigating the death of Saint Stanislaus College student, Trevor Fung, 18, of Lot 158 Lodge Housing Scheme, who was brutally stabbed by two men during a robbery around 9 o'clock Saturday night at Eping Avenue & Abary Street, Bel Air Park.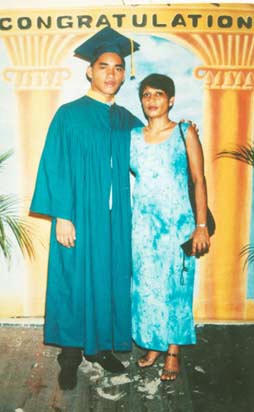 Trevor Fung and his mother, Devi, at his graduation ceremony.

The Upper Sixth Form student was returning to a house party with two female classmates when the men, who were riding a blue motor scooter, approached.

The bandits demanded cash and jewelry.

According to a Police report, Fung told the men he had no money and a scuffle ensued, during which one of the men, trying to push his hands into the student's pocket stabbed him several times in the stomach.

The other bandit ran after Fung's female classmates who had fled the scene in fear and relieved one of them of $3 000 in cash, a black bag containing personal items and a cellular phone.




The two knife-toting bandits then fled the scene on the blue motor scooter.

Fung was picked up in an unconscious condition and taken to hospital where he was pronounced dead on arrival.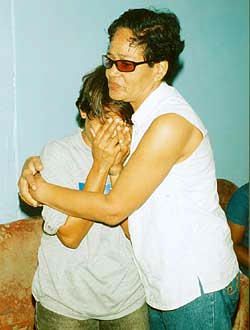 Fung's grieving mother as she was comforted by the mother of the colleague who had hosted the party.

At Fung's residence yesterday a mournful atmosphere prevailed as several of his classmates gathered to comfort the grieving parents and siblings, in obvious shock and disbelief.

"I can't believe my friend is dead because only last night we were at the party together and he said he was hungry and left to go to buy chicken; then we heard he was killed," cried a classmate.

"I should have gone with him," said the distressed friend.

Fung's colleague who had hosted the party at her residence was too distraught to speak. She had to be taken away by her parents.
Fung's mother, Devi, said her son was very excited about pursuing Veterinary Science. He visited the University of Guyana Career Day Exposition on Friday and had collected application forms to fill.

She displayed several notes which amounted to less than $2 000 stained with her son's blood and his bloodied cellular phone, which was retrieved from his person at the hospital.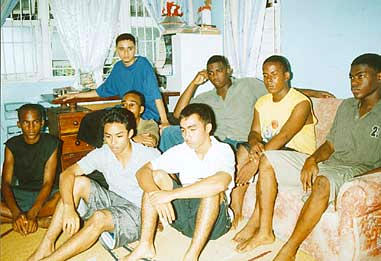 In front row: two of Fung's siblings and his friends.

Fung's father, Trevor, was yesterday still trying to come to terms with his son's sudden death.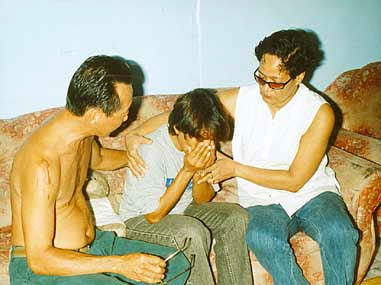 Fung's father, mother and the mother of his close friend as they tried to comfort each other on Sunday morning

He said that Trevor was a very determined young man who was very active, responsible, jovial, healthy and intelligent.

Fung was the eldest of four siblings.

It is believed that the two men on the blue motor scooter had followed Fung and his two classmates from KFC on Vlissengen Road, with intent to commit robbery.