POLICE have arrested one of two suspects in their probe of the Tuesday night Tucville, Georgetown armed robbery.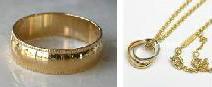 The arrest was made about 21:10 h, by cops on mobile patrol, who confronted two men with handguns as they emerged from a house after robbing the occupants of jewels, cash and a cell phone.
The victims, Sheldon Cheddi, 32, of Jackson Street, Tucville and Duane London, 36, of D'Andrade Street, Newtown, all in Georgetown, were watching television when the robbers entered the house through an open door and held them at gunpoint.
The duo took away personal jewellery valued $2.8M, $10,000 money and the phone but, as they were leaving the building, they were intercepted by the Police ranks.
One of the thieves was nabbed but the other escaped after an unlicensed .38 'Taurus' revolver with six matching bullets and some of the jewels and the phone were retrieved.
The man in custody will be charged shortly.
Cheddi and London were hit with firearms during their ordeal and had to be treated for injuries at Georgetown Public Hospital (GPH).