Four heavily armed and masked bandits yesterday broke into a Canje home and robbed a family of an undisclosed amount of cash and jewellery.
Vijay Chung, 33, of Betsy Ground, who was traumatised by the 30-minute ordeal and hardly wanted to recall the incident, said at about 3 am she was awakened by a loud thud on their zinc shed. The woman said she then heard the back door near to her bedroom being pushed loudly and, upon hearing the noise, her husband, Leslie Chung, 37, left the bedroom to investigate and came face to face with the bandits. The woman told Stabroek News (SN) that the men were all armed with guns and had entered the house by removing two louvre window panes and pushing open a wooden and grill door.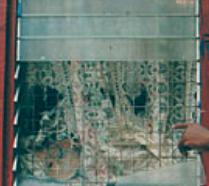 Removing two louvre window panes
Vijay said they grabbed Leslie and put him to lie on the floor while demanding money and gold jewellery. Vijay said they then entered the bedroom where she was holding her ten-month-old son Dylan. The baby started to scream and this angered the bandits, she said, and they shouted that she should stop the baby from crying. The woman said she does not like to use gold jewellery and as such did not have much to give the bandits.

She said they stripped her of the wedding band and diamond ring that she had hardly removed since she got married 16 years ago and also ripped off a gold chain her husband was wearing.
Vijay said the bandits then proceeded to ransack the drawers while cursing and demanding more money and jewellery. She said they then barged into the bedroom of her daughters, 12-year-old Zoya, and five-year-old Chelsea, as Zoya was coming out of the bedroom and they pointed a gun at her and ordered her to "go back inside." The men then ransacked the drawers in the girls' room.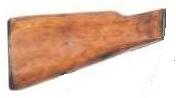 Gun-butted both her and her husband
The woman said they gun-butted both her and her husband while demanding more money and jewellery.


The bandits also stole items including DVD players and about 30 cartons of cigarettes from the family's shop. Vijay said the money that they took was set aside to pay business persons who she had taken stock from on credit. The distressed woman said "The bandits just come and take away everything we worked so hard for just to give our children a good education." She said they now have to start all over again to get money to pay their debts. (Shabna Ullah)