Woman burnt to death
- reputed husband missing
Up to press time yesterday police were trying to locate Godfrey Stewart to assist them with their investigations after the burnt remains of his reputed wife was pulled from their home which went up in flames early yesterday morning.
Just after 3:30 hours yesterday, the remains of newspaper vendor Jacqueline George were pulled from among the rubbles of her house which was completely gutted. It is believed that the woman was killed and her body set alight on her bed.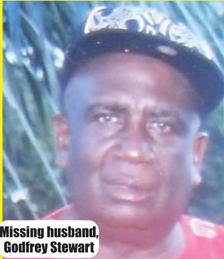 The dead woman's son, Kenneth George, told this newspaper that when he saw his mother's remains, her hands were behind her back. "From what I saw it looked like her hands were tied behind her back and her wrists were severed," the man related.
He said he received the news at around 4:00 hours yesterday from his sister.
"My sister called and told me that mommy house burn down. When I reached there, I see the fire people and police moving away her body," he added.
George said when he arrived at the scene he made several attempts to contact his mother's reputed husband but to no avail. "We try calling he but he phone turn off and we can't find he nowhere," George added.
The man added that his mother was an able-bodied person and in the event of a fire she would have been able to make her way out of the building.
Meanwhile, neighbours who spoke with this newspaper said that the last time they saw George's reputed husband was around 01:00 hours yesterday.
"Like he went out and we just see he come in but we ain't know if he went back out and we ain't hear no quarrelling or nothing, but he was home just before the fire start and now he disappear," one neighbour related.
Another neighbour said that the couple had a very stormy relationship which would lead to Ms. George asking her reputed husband to leave the home but he would always refuse. The woman's son did admit that the couple had problems but whenever there was a problem his mother would call him over to sort out whatever issue there was. This newspaper was also told that the fire started from inside the house and it was until flames were seen bursting out then neighbours were alerted. Persons in the area said that the Guyana Fire Service was informed and responded promptly.