Zinc sheets caused the death of a thief caught making off with some of them yesterday morning.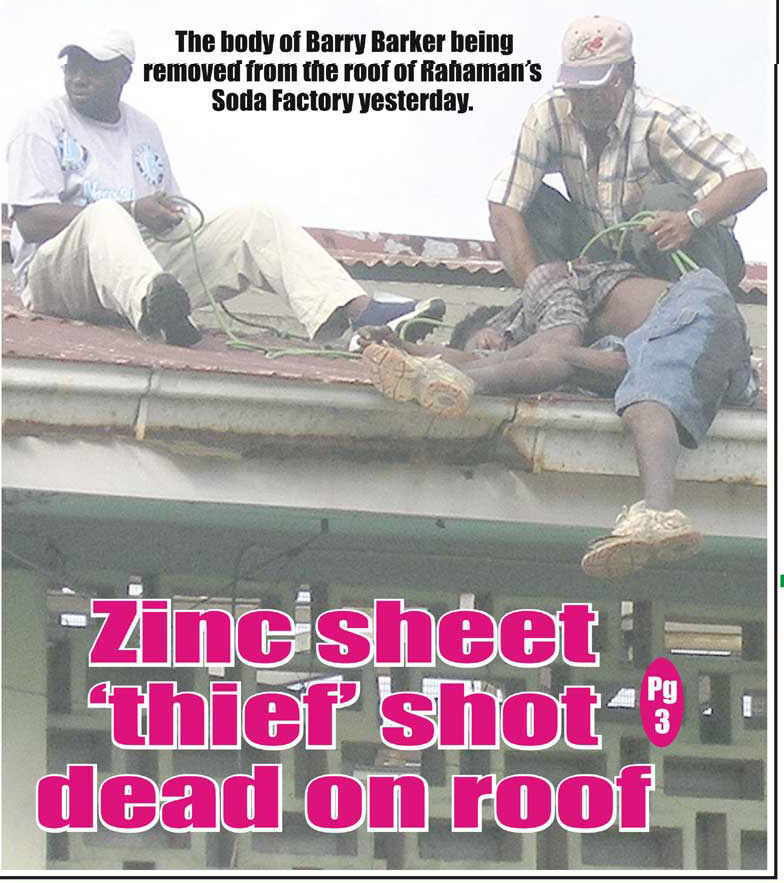 Dead is Anselm Barker also known as Bonny, 38, who resided at Meadowbank. The suspected shooter was later taken into police custody but released last evening following a High Court order.
According to an eyewitness, at around 7 am yesterday Barker was seen on the roof of the northern building in the Rahaman's soda factory compound when shots rang out injuring him. More shots rang out as the man was trying to limp his way off the roof and the man fell lifeless.
Barker's sister Roslyn Barker said the man worked when work was available and did other jobs to sustain himself. Barker has left behind his reputed wife and two children.
Shorab Rahaman, one of the residents of the compound regularly ravaged by thieves, said he did not see how the man was shot but he heard the gun go off.
Another relative who lives at the same property noted that thieves got unto the property with impunity. She said this occurs often but most of the time when they contact the police they do not turn up.
She pointed to the buildings with large parts of the zinc roof missing. She said the men recently were in the compound ripping away parts of one building but when she called 911 the operator told her not to worry since if the men were there for sometime and had not ventured into the house then they would not harm them.
The western side of the fence surrounding the perimeter of the large compound has two gaping holes. The area around the holes seems trampled and well used, with the tall grass crushed into a regular pathway.
There was even a rope on the ground which was there to bundle the zinc sheets after they were removed from the building.
The police in a release yesterday said that the man who was taken into custody at the Ruimveldt Police Station refused to cooperate with the police but that his firearm has been lodged.
He was released after lawyers approached the High Court on his behalf. He has been placed on $150,000 bail and has to return to the station today.